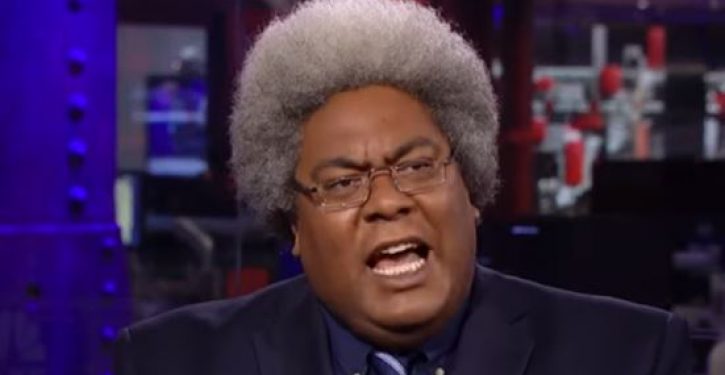 According to Rep. Joaquin Castro, his purpose in publishing a list of Trump donors on social media was not to incite violence against the individuals named. He never explained what his purpose was, but the result he claims he was not after has occurred. Conservative radio host Michael Berry played a voicemail one of the outed donors received that should not be listened to in polite company. In addition to his abundant use of profanity, the caller threatens to expose her personal information online.
But that's not the limit of charm coming from the Left in its crusade not only to unseat Donald Trump as president but to come after his donors with "pitchforks and torches." That was the very image conjured up by MSNBC contributor and Above the Law executive editor Elie Mystal on the network's "All In with Chris Hayes" as he urged Democratic viewers to flash-mob the house of owner of SoulCycle and the Miami Dolphins Stephen Ross:
People of color are already targets under this administration. I have no problem with shining the light back on the donors who fund this kind of racialized hate. I mean, I go further. I want pitchforks and torches outside this man's house in the Hamptons. [Emphasis added]

I've been to the Hamptons, it's very nice. There's no reason it has to be. There's no reason he should be able to have a nice little party. There's no reason why people shouldn't be able to be outside of his house and making their voices peacefully understood.
https://youtu.be/TY8Uv-f7GQk
It is frankly a little unnerving to see a black man, of all people, evoking imagery that harks back to the Jim Crow era. Needless to say, host Chris Hayes didn't bother (dare?) to bring up the irony, but no doubt Mystal would claim he was using the language figuratively.
Kind of like the woman in this video recorded outside the home of Senate Majority Leader Mitch McConnell (warning: very graphic language):
This is the video Twitter didn't want you to see: far-left protestors shouting death threats outside of Senator McConnell's home.

Would be a shame if it went viral
pic.twitter.com/rHEMHWa4YN

— Ben Goldey (@BenGoldey) August 9, 2019
(h/t Breitbart)