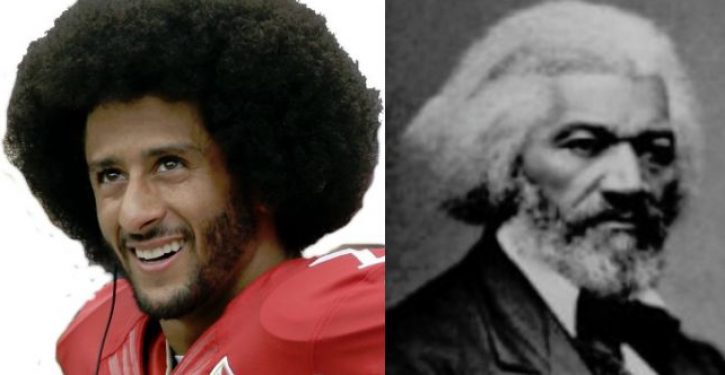 It should come as no surprise that a whining opportunist like Colin Kaepernick would quote the great nineteenth-century abolitionist Frederick Douglass out of context to  continue his petulant crusade against this year's celebration of the Fourth of July. It might at one time have been surprising to see the New York Times editorial board weigh in in support of Kaepernick, but the Grey Lady long ago fell from grace.
Having roiled the waters once with his foolish, quasi-conspiratorial attack on the Betsy Ross flag, Kaepernick re-emerged on Independence Day, this time armed with a quote from a Fourth of July speech that Douglass delivered in Rochester, N.Y., on July 5, 1852.
"What have I, or those I represent, to do with your national independence? This Fourth of July is yours, not mine…There is not a nation on the earth guilty of practices more shocking and bloody than are the people of these United States at this very hour."
– Frederick Douglass pic.twitter.com/IWLujGCJHn

— Colin Kaepernick (@Kaepernick7) July 4, 2019
It's worth noting for starters that Douglass was speaking from firsthand experience: He had himself suffered the indignity of enslavement, which was still widely in practice. The Civil War and Emancipation Proclamation, moreover, were still a decade off.
Even more significant was the tone of optimism expressed toward the end of the speech, which Kaepernick conveniently overlooked:
I, therefore, leave off where I began, with hope. While drawing encouragement from "the Declaration of Independence," the great principles it contains, and the genius of American Institutions, my spirit is also cheered by the obvious tendencies of the age.
Sen. Ted Cruz responded to Kaepernick's mindless and self-serving tweet with a series of tweets of his own in which he noted that "Douglass was not anti-American; he was, rightly and passionately, anti-slavery. Indeed, he concluded the speech as follows: 'Allow me to say, in conclusion, notwithstanding the dark picture I have this day presented, of the state of the nation, I do not despair of this country.'"
Enter New York Times editorial board member Mara Gay, who tweeted:
Frederick Douglass is an American hero, and his name has no business in your mouth. https://t.co/Ghoqb75gJF

— Mara Gay (@MaraGay) July 5, 2019
That prompted Cruz to tweet:
Let's see. You're on the editorial board of the NYT. You respond to any view you don't like, not with facts or reason, but w/ ad hominem attack. And you seem dismayed that I linked to Douglass's entire speech, so readers can judge for themselves. You represent your employer well. https://t.co/c8168yiCgY

— Ted Cruz (@tedcruz) July 5, 2019