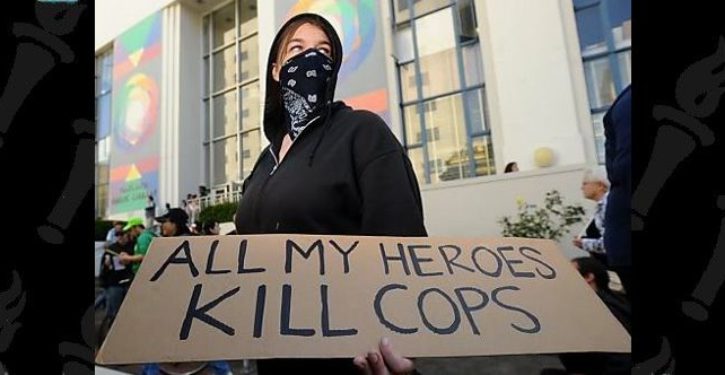 Carrying signs like the one depicted above is an ugly practice. So are chants like "Pigs in a blanket, fry 'em like bacon." Expressing anti-police sentiment dates back to the 1970s, but it was during the Obama years that antipathy toward our men and women in blue reached unprecedented heights. The investigations of major metropolitan police departments by the Obama Justice Department fed the rabid anti-cop mentality, especially within the black community. Police sitting in patrol cars became easy targets of assassins.
While the signs and chants have not been welcome, they have always been anonymous — up until now. Earlier this week, t-shirts featuring the image of St. Louis County Police Officer Michael Langsdorf went on sale on Facebook with the caption "1 down, many to go."
Langsdorf was killed last Sunday during an attempt to arrest Bonette Kymbrelle Meeks, who had been accused of passing of a bad check. During a struggle, Meeks managed to get hold of the officer's service weapon and shot him in the back of the neck at point blank range as he lay prone on the floor.
Langsdorf, a family man, had been on the force for three months. Meeks has a lengthy criminal history that includes seven drug convictions.
The Facebook page that was offering the shirts celebrating Langsdorf's execution was taken off line, though images of a Twitter post advertising the sale of the shirts for $28 still can be found archived: