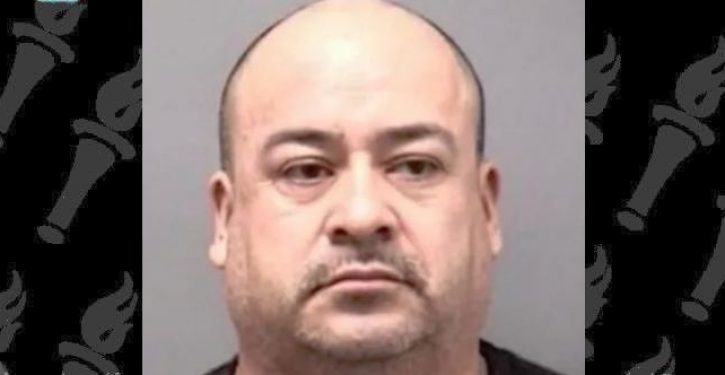 Criminal illegal aliens are nothing if they're not persistent. Take the case of 46-year-old Simon Rochel-Cervantes, a Mexican national and registered sex offender, who was convicted for the 2006 rape of a child under the age of 14 (his victim was 11) and aggravated intimidation of a witness. He was sentenced to 7 years in prison and served that time in the Ellsworth Correctional Facility in Kansas.
On Feb. 19 he was released and transferred to federal custody for deportation, according to the Salina (Kan.) Post. On March 5, two weeks later to the day, he was picked up by police in Butler County, Kans.
Rochel-Cervantes is charged with unlawfully re-entering the United States after being deported.

If convicted, he faces up to two years in federal prison and a fine up to $250,000. Immigration and Customs Enforcement HSI investigated.
Trending: Irish bar to media: Stop saying Trump brothers didn't pay their bill
Cases like this one have become a common occurrence in the U.S. On May 14, a Honduran man, previously deported, tried to cross the border into Texas with an infant unrelated to him. In April, another Honduran who had been deported five times(!) murdered an infant.
And now this.
Never mind the Democrats' cynical reasons (which include spiting Donald Trump) for refusing to allocate funding to build a wall along the southern border that would at least deter some of the illegal traffic into the U.S. According to NBC News, on May 1, the "White House … asked Congress for an additional $4.5 billion in emergency funding for the southern border," none of which "would be for construction of President Donald Trump's long-promised border wall." Rather, the bulk of the requested funds, $3.3 billion, was to be earmarked for "humanitarian assistance, such as food, clothing, diapers, transportation, bed space and increased shelter capacity for unaccompanied minors." The reminder was to go toward "operations and support to respond to the crisis at the border (including investigations related to smuggling)" and additional personnel.
A month later, the request remains unanswered by the Democrat-controlled House.
For your convenience, you may leave commments below using either the Spot.IM commenting system or the Facebook commenting system. If Spot.IM is not appearing for you, please disable AdBlock to leave a comment.