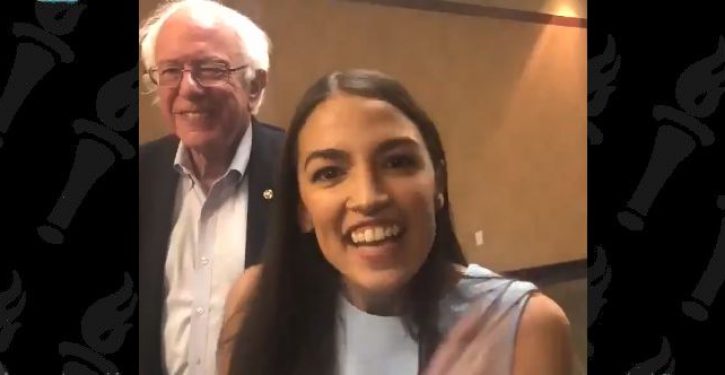 Despite freshman Rep. Alexandria Ocasio-Cortez's frequent displays of ignorance on significant issues and her tendency to say the dumbest thing at the least opportune time, it has taken her only four months inside the Beltway to transform herself into a "swamp" creature. As first reported by the New York Post, Ocasio-Cortez pulled a campaign fundraising bait and switch as participants in a fun run she organized were unaware that their registration fee was going towards her campaign.
The event this past Saturday was billed as a family fun run supporting Ocasio-Cortez's "Green New Deal," but a spokesman later revealed it was a campaign fundraiser.
"The site says it's to benefit her environmental plan," said one supporter who would not give his name. "If it is going to go directly to her campaign they should have said so."
AOC raised over $11K for campaign in Queens 'fund run' https://t.co/Isz0qcnKXu pic.twitter.com/REqfz2rYjJ

— New York Post (@nypost) April 28, 2019
Per Fox News:
Rep. Alexandria Ocasio-Cortez held a 5k in Queens Saturday that she billed as "a Family Fun Run supporting U.S. Congresswoman Alexandria Ocasio-Cortez's Green New Deal on the Saturday following Earth Day."

But many of the 400 runners didn't realize their $30 registration fees were going directly into the lawmaker's campaign coffers.

"We're getting together for our own health, for our planet's health … and to fight for the Green New Deal together," the freshman Democrat told the participants before they set off.

Environmentally conscious supporters — who jogged through Astoria Park alongside a beaming, strolling AOC — believed their money was going to help save the planet.

"It's going to help raise awareness and educate people," a female runner told The Post.

"I think it's really for this particular New Green Deal," said Brian Schwartz of Long Island. "No question."
The saddest part is that 99% of the participants don't realize they were played for fools, while the 1% who do will justify it by saying Ocasio-Cortez didn't mean to make it that hard to figure out it was a donation directly to her campaign.
Twitter was not pleased:
Another bait and switch. One of the oldest tricks in the Socialist hand book. Thanks AOC. The next trick is the Green New Deal switched to Bankrupt USA. Then Medicaid for all switch to after age 68 no treatment. Free stuff cost to much.

— Dr.moewill (@Docmoewill) April 28, 2019
Young idealistic politicians, they get corrupt so young so fast pic.twitter.com/tympp2gVCJ

— Shelby (@smellyman59) April 28, 2019
Maybe the Democratic socialist ought to consider changing the name of her pie-in-the-sky initiative to something more befitting of her inner demons. How about the New Green Steal?
Cross posted at The Lid