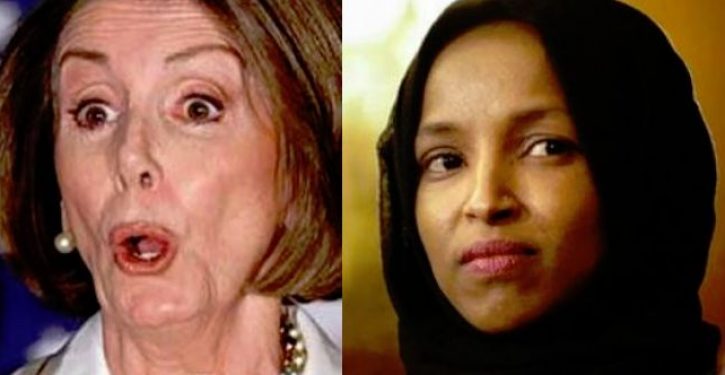 Nancy Pelosi evidently didn't learn her lesson — that novice Rep. Ilhan Omar is the boss of her — when the speaker sponsored a resolution in the House condemning Omar's anti-Semitism. The veteran congresswoman was dragged out behind the too shed for another beat-down after she dared to call out the Boycott, Divestment and Sanctions movement (BDS) against Israel as "bigoted" and "dangerous."
Omar admitted to supporting BDS after her election when her campaign told a site called 'Muslim Girl' that "Ilhan believes in and supports the BDS movement, and has fought to make sure people's right to support it isn't criminalized."
In a speech to the annual American Israel Public Affairs Committee (AIPAC) conference, Pelosi heavily criticized the movement.
"We must also be vigilant against bigoted or dangerous ideologies masquerading as policy, and that includes BDS," she argued.
"I simply declare – to be anti-Semitic is to be anti-American. It has no place in our country."
Pelosi went on at AIPAC to condemn the dual loyalty myth (no mention of Omar, though) and condemn BDS as "bigotry masquerading as policy."

"I simply declare to be anti-Semitic is to be anti-American. It has no place in this country," she said.

— Alex Seitz-Wald (@aseitzwald) March 26, 2019
Omar has in the past referred to Israel as "evil," compared Israel to Iran, repeated anti-Semitic tropes, and stood behind the BDS movement. She has badgered a Jewish diplomat and traveled with "a radical anti-American and anti-Israel organization" that sides with countries who are political foes to the United States.
Omar Fires Back
Omar not only criticized Pelosi for her comments – portraying her own support of the anti-Semitic BDS movement as a free speech issue – but she did so by turning the speaker's own words against her.
"A condemnation for people that want to exercise their First Amendment rights is beneath any leader, and I hope that we find a better use of language when we are trying to speak as members of Congress that are sworn to protect the Constitution," Omar told reporters following a House Democratic Caucus meeting.
LOL @IlhanMN criticizes @SpeakerPelosi for her "use of language" https://t.co/94snU0bRER

— Joel B. Pollak (@joelpollak) March 26, 2019
Omar later refused to respond when a reporter asked if she thought Pelosi's comments were directed at her.
Omar Turned Pelosi's Words Against Her
Read her comment again — particularly the part about "better use of language" and "trying to speak."
Omar is clearly mocking Pelosi with the very words her colleague used to defend her own wildly anti-Semitic comments.
Pelosi, in guarding Omar against calls to condemn her comments and specifically draft a resolution focusing on anti-Semitism, said the Minnesota Democrat is nothing more than harmlessly ignorant.
"She has a different experience in the use of words," Pelosi claimed, and "doesn't understand that some of them are fraught with meaning that she didn't realize."
Nancy Pelosi is defending Rep. @IlhanMN's anti-Semitic comments by saying that "she has a different experience in the use of words."

You can't parody this stupidity. pic.twitter.com/PRMAnzeZ5k

— Robby Starbuck (@robbystarbuck) March 8, 2019
Pelosi shielded Omar from criticism for her bigoted actions, and the freshman Democrat turned around and tossed her directly under the bus. It's hard to have sympathy for the Democrats when they've allowed this woman to espouse hateful comments time and time again.