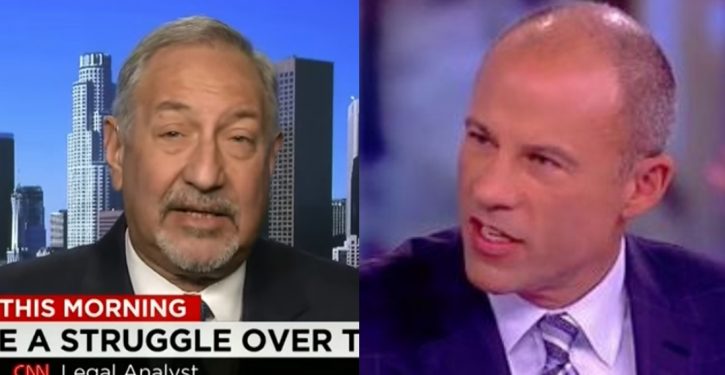 Lawyer Michael Avenatti, who rocketed to celebrity handling the case of his client Stormy Daniels against Donald Trump, was arrested on federal charges in Manhattan on Monday for a $20 million extortion attempt against Nike, based on threats made last week.
The charges brought by the U.S. Southern District of New York (SDNY) now add to fraud charges Avenatti faces in California and Mississippi.  The California charge accuses him of keeping an entire $1.6 million settlement for himself instead of distributing the amount his client was entitled to.  In Mississippi, Avenatti is accused of using fake tax returns to borrow $4.1 million from a bank.
But the real drama on Monday may not even be Avenatti's arrest, so much as the sequence of events in it.
Last Wednesday, March 20, in a conference call with representatives for Nike, Avenatti followed up on a threat made the previous day to expose "damaging information" if the company didn't pay him $20 million.
"I'll go take $10 billion off your client's market cap … I'm not f–king around," court papers say he told Nike lawyers during a conference call Wednesday.

That conversation came a day after Avenatti met with Nike's lawyers and "threatened to release damaging information" if the company didn't pay off Avenatti and an unidentified co-conspirator, according to a complaint filed in Manhattan federal court.
Avenatti was apparently preparing to make good his threat on Tuesday (March 26), based on a tweet he sent Monday at 12:16 PM Eastern.  In it, he promised a press conference Tuesday morning to "disclose a major high school/college basketball scandal perpetrated by @Nike."
Tmrw at 11 am ET, we will be holding a press conference to disclose a major high school/college basketball scandal perpetrated by @Nike that we have uncovered. This criminal conduct reaches the highest levels of Nike and involves some of the biggest names in college basketball.

— Michael Avenatti (@MichaelAvenatti) March 25, 2019
Less than an hour later, federal officials from the SDNY made an announcement of their own.
JUST IN: Federal prosecutors announce charges against @MichaelAvenatti, alleging he tried to extort Nike, threatening to release damaging about the company, if Nike didn't agree to pay millions to him and a client.

— Steven Portnoy (@stevenportnoy) March 25, 2019
It took karma 47 minutes to find Avenatti. (H/t: Joe Wiesenthal/@TheStalwart)  This swiftness of retribution no doubt seems like perfect justice to at least some of those who watched Michael Avenatti smear Supreme Court nominee Brett Kavanaugh in 2018, with allegations from client Julie Swetnick so sketchy the New York Times had decided not to publish them.
On Monday, the roller-coaster ride for newshounds continued less than two hours later, when it was disclosed by the Wall Street Journal that noted attorney Mark Geragos is the unidentified co-conspirator with Avenatti in the Nike extortion case.
Geragos's highest-profile client in recent days has been Empire actor Jussie Smollett, accused of paying two associates (by personal check) to commit a fake "attack" on him in Chicago, apparently so Smollett could then garner fame and sympathy by lamenting the "attack" as a hate crime.  (In an odd twist, the Chicago police union has asked for an investigation of the Cook County prosecutor's handling of the Smollett case, based on an alleged intervention involving Smollett's family and Obama crony Tina Tchen.  Tchen, in her turn, was hired last week to assist the Southern Poverty Law Center in reviewing its work climate and other issues, as four of its highest officials have made abrupt departures.  The suspicion that karma has not made her last visit in 2019 continues to grow.)
Geragos has previously represented Colin Kaepernick, Michael Jackson, and murderer Scott Peterson, among others.  He also represented Clinton crony Susan McDougal during the Whitewater case in the 1990s.
Geragos was a contributor to CNN until Monday.  The Washington Examiner reports that he was fired by CNN almost immediately after the report that he was said to be Michael Avenatti's co-conspirator in the Nike shakedown.