In what now seems an eternity in the world of social justice, I penned a post in Sept. 2017 about a then-8-year-old boy named Nemis Quinn Mélançon Golden who enjoys dressing up as a drag queen named Lactatia. I had questions then and continue to have many of the same questions now. Among them are why the child's parents indulge him in this sort of perverse behavior. Most parents would be deeply troubled to see their son in full drag queen regalia, but Nemis's mother professes to "feel overwhelmed by pride."
An even more trenchant question I raised back then was when transvestism, once frowned on by the LGBT community, had become acceptable.
I was never able to find satisfactory answers, but in the meantime Lactatia's star has been on the rise. In January 2018, he began modeling fashions put out by a company that specializes in lingerie and bondage apparel. There were some rumblings of impropriety and exploitation of a child.
Now we find that Lactatia has not only survived the backlash to his modeling career but has reached new vistas, including an interview cum photo spread in Huck Magazine (which describes itself as promoting "stories from the fringes"). The piece, titled "Queen Lactacia: what life is like as a child drag queen," featured young Nemis in slinky dresses with fishnet stocking, outlandish wigs, and a surfeit of facial makeup.
But the photo that is getting the most attention is one that didn't make the final cut. The image, which appears below, is of Nemis posing with a naked male adult. The individual in question is Violet Chachki,  the Season 7 winner of "RuPaul's Drag Race," Violet Chachki.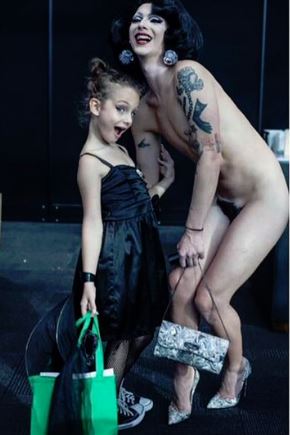 Technically Violet isn't nude since he is wearing pumps and a scrap of fabric covering his genitals, but how is this photo not being viewed by the authorities as child pornography? And how is this not a bridge too far for the child's mother, Jessica Mélançon, who once again affirmed she is unopposed to her son wearing sexually suggestive clothing so long as it "makes him feel beautiful"?