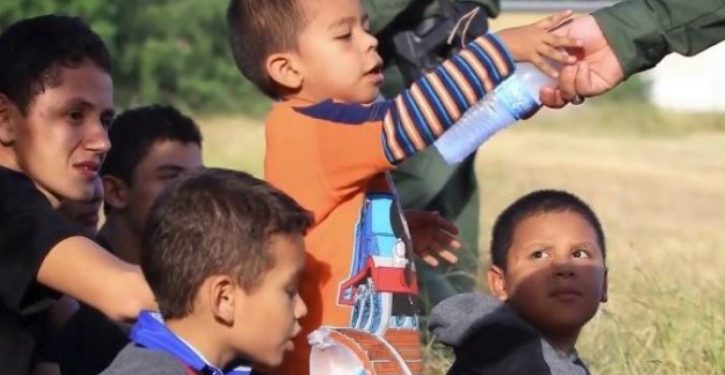 The Washington Post is getting sloppy in its old age. Its report about an 8-year-old Guatemalan boy who became ill and died in Customs and Border Protection custody incorrectly states that the incident is the second this month. It is the third. The Post writers correctly acknowledge the death of 7-year-old Jakelin Caal, another Guatemalan national, but they appear to have overlooked a toddler, also from Guatemala, who died of a respiratory infection, prompting her mother to file a $60-million wrongful death suit against the U.S. government.
This is not to say the Post didn't milk this most recent story for all it's worth. Even the headline — "Migrant boy dies in U.S. custody; Trump vows shutdown will last until border wall is funded" — breaks cynical new ground, blaming the child's death not only on the border patrol but seemingly on the government shutdown.
But for sheer maudlin melodrama, the second paragraph is hard to beat:
CBP initially said the child died shortly after midnight on Christmas Day. But early Wednesday, it issued a lengthy, revised version of events that put the boy's time of death at 11:48 p.m. on Monday, Christmas Eve.
Readers who make it as far as paragraphs 16 and beyond find less to fuel their rage at the border patrol and, by extension, the Trump administration. In fact, the details of the story suggest vigilance on the part of the border patrol and neglect on the part of the father:
In its new timeline, issued at 12:37 a.m. Eastern time on Wednesday, CBP said the boy was apprehended with his father about 1 p.m. on Dec. 18, a little more than three miles west of the Paseo Del Norte port of entry. The agency said they were brought to the Paseo Del Norte processing center a little after 4:30 p.m., where they were given hot food, snacks, juice and water. Agents checked on their welfare six times, CBP said.

On Thursday, they were taken to the El Paso Border Patrol station, where they were held for two days and provided food, water and showers, CBP said. Agents checked on their welfare 17 times, the agency said. Shortly after 1 a.m. Sunday, they were taken to the Alamogordo Border Patrol station to "finalize processing," CBP said.

The boy began to show signs of illness Monday morning and was taken to Gerald Champion Regional Medical Center in Alamogordo, N.M. He was tested for strep throat but prepared for release with a diagnosis of a common cold and given Tylenol.

But when caregivers noticed a fever of 103 degrees, he was held for more observation before being released with a prescription for an antibiotic and Ibuprofen.

The boy and his father were taken to a holding facility at the Highway 70 checkpoint, and the child was given the medications about 5 p.m. About 7 p.m., the boy vomited. His father declined further medical assistance, CBP said.
The death of this child, like that of the others, is tragic. Sadly it will not likely be the last, not as long as migrants are willing to make the dangerous trek through the desert with their young children in tow.