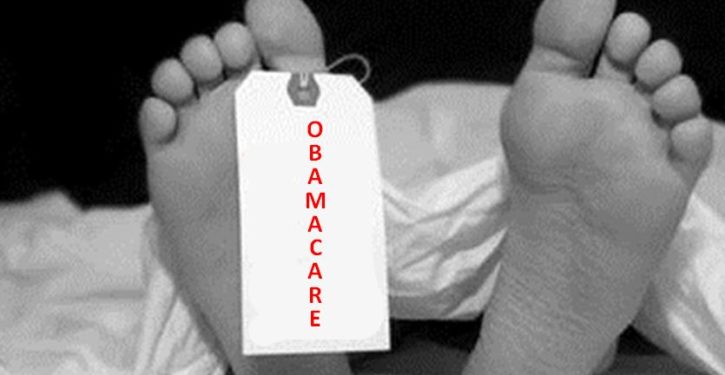 As noted yesterday, Obamacare — the last and largest piece of Barack Obama's dwindling legacy — has finally been put out of Americans' misery. A federal judge in Texas struck down the law as unconstitutional, drawing ironically on the same rationale that Supreme Court Chief Justice John Roberts used in 2012 to uphold the law in the face of arguments that it unlawfully required Americans to make a purchase.
If Republicans have any regret about the ruling it is that it wasn't made sooner. If it had been, the tall tales Democrats parroted about pre-existing conditions to win control of the House in the midterm elections would have been a non-starter.
Now that we as a nation can begin looking forward to better solutions to managing the staggering costs of health care, some on the Left are already conjuring up visions of forcing socialized medicine down the nation's throat.
The majority of Democrats, however, are pining over their loss. Bloomberg reporter Sahil Kapur grumbles in a tweet:
Federal judge appointed by George W. Bush sides with Texas in a Republican-led lawsuit to overturn core provisions of the ACA—including the preexisting condition protections—as unconstitutional.

Trending: Democrats respond to the latest monstrous murder by illegal aliens

The Trump administration backed the lawsuit in court.https://t.co/9CMfjiWUlz

— Sahil Kapur (@sahilkapur) December 15, 2018
But as the Left's BFF and Obamacare savior Chief Justice Roberts announced in November, much to liberals' delight:
We do not have Obama judges or Trump judges, Bush judges or Clinton judges. What we have is an extraordinary group of dedicated judges doing their level best to do equal right to those appearing before them. That independent judiciary is something we should all be thankful for.
Others tried to revive the argument about pre-existing conditions. Here's Nancy Pelosi in a rare double lie:
Throughout the campaign, Trump and Republicans lied about protecting people's pre-existing conditions — all the while pushing a lawsuit to have the ACA declared unconstitutional.

— Nancy Pelosi (@TeamPelosi) December 15, 2018
But as Investors' Business Daily wrote in November:
ObamaCare extended pre-existing protections to only a relatively small portion of the population — those who buy insurance on their own. The individual market comprises just 7% of the total insurance market. And of those, only a much smaller fraction had ever been denied coverage due to pre-existing conditions before ObamaCare.

Everyone else already had this protection. State and federal laws already mandated that large group plans couldn't charge more or deny coverage for someone because of a pre-existing condition. States had similar laws in place for small group plans.
Democrats weren't just deceptive about their arguments. In many cases, they were ignorant of how health insurance works. Here is hoping that American voters will hold their feet to the fire as the nation sets to work tackling a major economic obstacle.
For your convenience, you may leave commments below using either the Spot.IM commenting system or the Facebook commenting system. If Spot.IM is not appearing for you, please disable AdBlock to leave a comment.