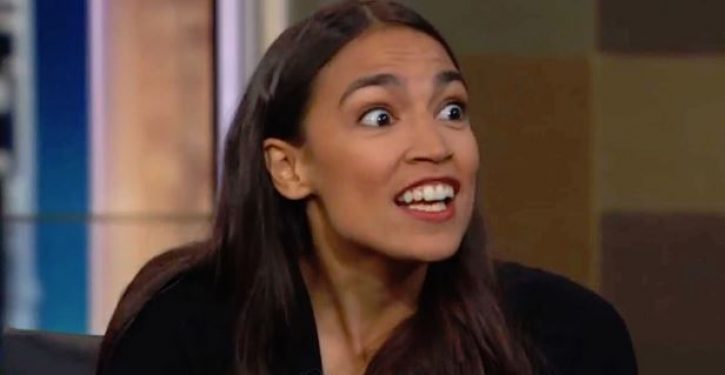 The last thing a hyperactive gaffe-prone spectacle like Alexandria Ocasio-Cortez should be doing is calling more attention to herself. Yet despite having become an almost daily target for her half-baked socialist prescriptions, she has taken to tweeting at a more frenetic pace then ever. And to make matters worse, her comments on social media have acquired an unflattering snide edge. Last Friday, for example, she attempted to mock Fox News, writing "They are far superior to and more intelligent than me," and was repaid in kind and then some.
She stepped in it again the following day with a tweet that was intended to support her calls for "Medicare for All" but instead backfired big-time. The problem was an ability to read. Here is her tweet. Once again, note the sarcasm:
Insurance groups are recommending GoFundMe as official policy – where customers can die if they can't raise the goal in time – but sure, single payer healthcare is unreasonable.

h/t @DanRiffle pic.twitter.com/zetPW0MgDd

— Alexandria Ocasio-Cortez (@AOC) November 24, 2018
Trending: FBI official confirms: Hillary Clinton private-server email records found in Obama White House
The problem here? Spectrum Health is not an insurance group. It is a managed care health care organization whose subsidiaries include hospitals, treatment facilities, urgent care facilities, and physician practices. If nothing else, the heading "Heart and Lung Specialized Care Clinics" on the letterhead should have clued her into the fact this was not an insurance company but a service provider.
What followed the tweet was a predictable avalanche of reactions. Some examples:
Are you illiterate? It isn't a health insurer making the recommendation as you claim. Obviously this person just needs to signup for Obamacare and problem solved, right?

— Nuclear Dave (@woodstockdave) November 25, 2018
And I am sure that single-payer comes with absolutely no costs at all. Life is good, everything is free. Bless your heart. #demagogueryKills

ps. ACA is state-sponsored interference in health insurance programs costing us all in higher premiums and reduced coverage. pic.twitter.com/rK7BqR0SXK

— Charles X Proxy (@Charlemagne0814) November 25, 2018
I am a lung transplant recipient. You MUST go through your insurance coverage before you talk about transplant b/c without the meds, you're SCREWED. And guess what? A lot of Obamacare things DO NOT cover transplant meds. But, my private insurance….does. Hm.

— Emily DeArdo (@emdeardo) November 25, 2018
(h/t Twitchy)
For your convenience, you may leave commments below using either the Spot.IM commenting system or the Facebook commenting system. If Spot.IM is not appearing for you, please disable AdBlock to leave a comment.