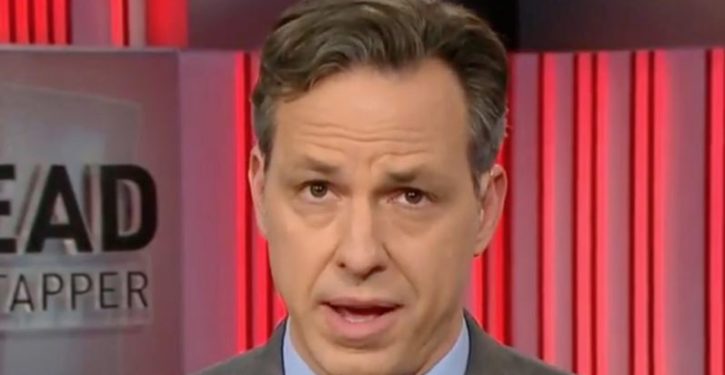 There's a rather grisly scene in Brian De Palma's "The Untouchables" where Al Capone (portrayed aptly by Robert De Niro) is hosting a gala dinner for the higher-ups in his criminal empire. Holding aloft a baseball bat at one point, he extols America's pastime and its emphasis on teamwork. He then uses the bat to bash in the brains of a disloyal division head.
That may have been one of the scenes that came to the mind of CNN host Jake Tapper as he tore into the president for what some have characterized as his callous reaction in this post-election presser to candidates who "who tried to run their own campaigns — and lost," in the words of the Miami Herald.
"…[Y]ou had some who decided, 'Let's stay away, let's stay away.' They did very poorly," the paper quotes him as saying. "I'm not sure that I should be happy or sad, but I feel just fine about it."
Whether that is an extraordinary reaction remains to be seen. No doubt previous presidents have felt that no love was lost with regard to candidates who "dared to criticize" them "publicly" (again the Herald's words).
But Tapper goes overboard in his criticism, twice claiming that Donald Trump "danced on the graves" of Republicans "in suburban districts who turned away from President Trump where he was toxic." In the video that follows, he suggests the president "started out by doing a dance on the graves of Republicans who did not show him enough fealty."
Later in the segment, Tapper turns to another analogy:
That's how gangsters act: The idea you're not loyal to them and, therefore, you deserve the punishment.
That's reading a whole lot into Trump's words. But it's also highly charged language at a time when emotions are running higher than ever, despite the Democrats' victory on Tuesday.
At a time when many in the media and on the Left are fixated on Trump's heated rhetoric, it behooves a liberal commentator — and especially one on CNN — to dial it back a bit.
(h/t Paul Crookston, Washington Free Beacon)