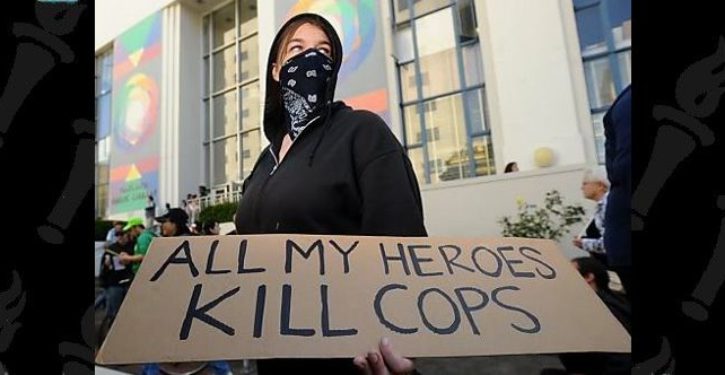 Former Obama Attorney General Eric Holder stoked the passions of the crowd at a campaign event for Georgia gubernatorial candidate Stacey Abrams last week with his recommendation that "when they go low, we kick them." The remark, which was received with howls of approval, is of course a latter-day version of Michelle Obama's somewhat inauthentic advice to her party that "when they go low, we go high."
The problem with Holder's suggestion is that the Left can't go any lower. They hit rock-bottom when they began using bicycle locks and their fists in place of words. On the rare occasion that liberals do use their words, the vast majority of them are four-lettered.
Consider the example provided by a video posted to Twitter on Wednesday in which a leftist hatemonger appearing to be an Antifa protester tells a woman who identifies herself as a 9/11 widow that her deceased husband should "f*cking rot in the grave."
According to the tweet, the encounter took place during a protest in downtown Portland, Ore., over the weekend. Be warned: This is extremely difficult to watch, and only partly because of the stream of obscenities that issue from this cretin's mouth. A transcript of the exchange, via the Daily Wire, follows:
Trending: Judge denied visitation rights to unvaccinated parent who already had COVID
https://twitter.com/Breaking911/status/1052719309263384576
MAN: Why are you trying to block me? I'm f*cking trying to walk here.

WOMAN: Because I obey traffic signals.

MAN: "You're a f*cking snarky, little f*cking idiot. So shut the f*ck up.

WOMAN: "Try somethin, b*tch.

MAN: I'm not, I'm not going to punch you, I'm not like your husband, I'm not going to punch you.

WOMAN: I'm not married.

MAN: I'm not like your boyfriend or your cop boyfriend who is going to f*cking knock you out, so don't worry.

WOMAN: [Gesturing at her cap, which reads "NYPD"] My husband died on 9/11.

MAN: Good for him. Good, good. NYPD was a bunch of sodomizers, f*cking sodomizing immigrants with their bully sticks. So yeah, your husband, should probably f*cking rot in the grave.
Where is the outrage from the Left over the way a man — a white man at that — treats a woman? That question is actually rhetorical: The Left would never come to the aid of a woman who wasn't a card-carrying feminist.
Portland, by the way, appears to have been essentially taken over by the radical leftist organization, as Conservative Firing Line's Faye Higbee notes here.
Related Articles