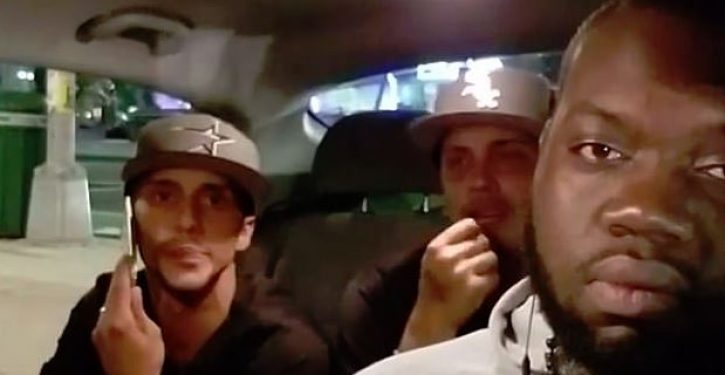 A poll taken last week found that the 92% of television coverage of Donald Trump is negative. That's up 2% from a poll conducted in May
The bias revealed in these numbers is nothing for the media to feel proud about. But they should downright ashamed by a new trend, which is far more sinister. It involves taking a story of adversity that marginally involves the president, if at all, and elevating him to a starring role.
One such example is the sobering tale of Shawn Pepas Lettman, a black Lyft driver, who was subject to a 16-minute racist harangue by a passenger who went ballistic when Lettman refused to play the radio in his car.
We might not know about the ugly incident at all had Lettman not thought to hit the "record" button on his cell phone once the verbal assault began. The video, which appears below, is instructive for more than its evidentiary value. It also attests to the kind of man Shawn Lettman is: He exhibits Job-like patience for the duration of the tirade, quietly gazing forward. (This aspect of the story has prompted some well-meaning types to start a GoFundMe page for Lettman, as though the answer to all life's woes is to throw money at a victim whether he is needy or not, but that's another post.)
Trending: First (possibly last) look at founders of newly 'liberated city' in Colorado
Lettman's tale has gone viral, and should have, for it is at once a portrait of ignorance and self-restraint. (It is also one of justice … sort of: The passenger captured hurling the n-word was fired from his job, though before anyone rejoices over that, we should know more about the kind of work he was doing and whether his extracurricular behavior, however unseemly, is relevant.)
But how the media chose to tease the story is another matter. The Daily Mail, which tends to lean right, headlined their take on the incident "'F**k Black Lives Matter': Lyft rider threatens driver and calls him the N-word for not playing music then reports HIM to 911 for 'threatening behavior' – unaware the whole episode was being recorded."
It's accurate, if a little heavy on detail. But it is a journalistic masterpiece compared against the titles chosen by Newsweek, Yahoo! News, and TheRoot. These are  respectively:
"Trump supporter fired from job after video of him berating black Lyft driver goes viral,"
"Trump supporter calls 911 on black Lyft driver for not turning on the radio,"
"Trump Supporter Accuses His Lyft Driver of 'Being Racist Against Gay People' Before Calling Him a Racial Slur." [Emphasis added]
If you're wondering how President Trump fits into this story, it is in the revelation shared at one point by the passenger, Robert Ortiz, that he voted for Trump. But Ortiz also accuses Lettman during his tirade of being "homophobic." So why didn't Newsweek title their article "Gay man fired from job after video of him berating black Lyft driver goes viral"? Another angle the magazine could have played up is Ortiz's race: "Hispanic man fired from job after video of him berating black Lyft driver goes viral."
The reason Newsweek and other mainstream outlets focused on the Trump "connection," however tenuous, is twofold. In the liberal worldview Trump is the most racist man whoever lived, and any incident of racism that occurs on his watch is directly influenced by his bad example. Second, gays and Hispanics are protected classes and are, thus, to be forgiven their minor missteps — even when those entail infringing on the dignity of another protected class.
This is why as a nation we can't have nice things.