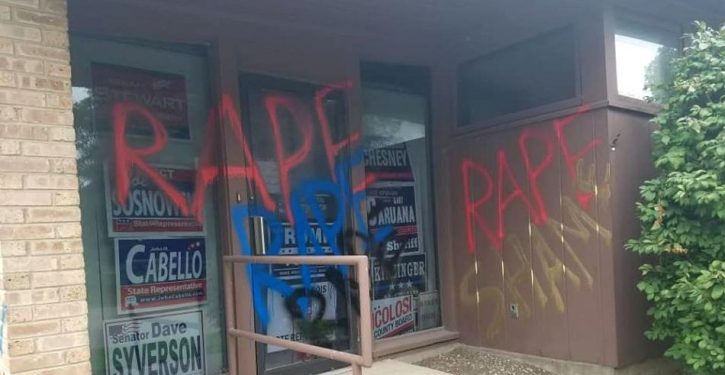 America's radical liberals (also known as the Democratic Party) continue to drag the political conversation down into the sewer via slander, violence, and vandalism. Just look at the last month:
Now, making it an even number, over the weekend the Winnebago County, Illinois Republican HQ was vandalized with hateful graffiti. Words like "rape" and "shame" were spray painted on the building early Sunday morning.  Rockford police officers said the graffiti was spotted by an officer shortly before 10 in the morning. Also painted on the building was the date "9/27/18," which was the day  Dr. Christine Blasey Ford and Judge Brett Kavanaugh testified before the Judicial Committee about Ford's sexual assault allegations:
Republican state senator Dave Syverson was NOT happy either:
Even the Rockford mayor, who is a Democrat running for re-election. found the graffiti despicable.
And for those who are part of the #MeToo movement, actions such as this vandalism with the Brett Kavanaugh slanders hurt the movement, by watering down the horrors of sexual assault. The more you demand that accusations should be believed without corroborating evidence, the more people will suspect women with legitimate claims.
Folks, if you are not disgusted by this and all the other leftist hate, you should be. Led by the slanders promoted by Democrats such as Senate Minority Leader and Maxine Waters, liberalism has become a synonym for violence and bullying. It's a sad time for politics in America.
Cross-posted at The Lid