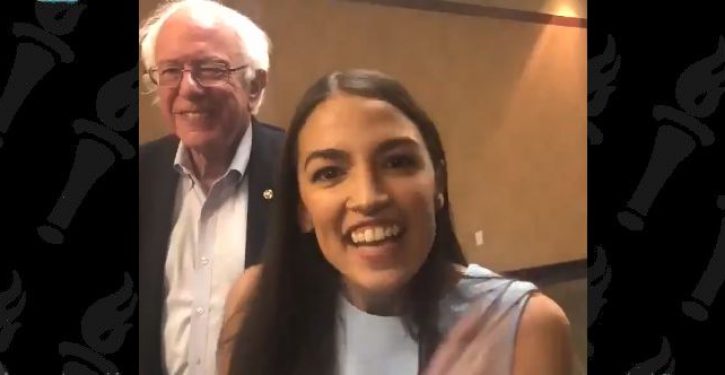 The closer proud socialist Democrat Alexandria Ocasio-Cortez gets to a seat in the U.S. House of Representatives, the higher the price tag on her ambitious plan to transform the nation into a socialist paradise like (presumably) Venezuela. The current tally, according to the left-leaning Tax Policy Center, is $40 trillion spread out over 10 years. (Yes, that's "trillion," with a T.)
Here's the breakdown of her freebies and what they'd cost:
Medicare for all ($32 trillion)
Guaranteed jobs ($5.4 trillion)
Forgiving all extant student loans ($1.4 trillion)
Free college tuition, paid family leave, and expanded Social Security ($1.3 trillion)
On Sunday, Ocasio-Cortez appeared on CNN's "State of the Union" (video below), where host Jake Tapper asked her to explain where the money to finance this project would come from.
She began with her plan to tax the life out of the richest Americans, which she claims will bring in $2 trillion. LU's Ben Bowles crunched the numbers back in July and found that the "one percent" would need to pay out more money in taxes than they take in annually in order to make this pipe dream a reality.
Trending: FBI director refuses to disclose Officer Brian Sicknick's cause of death
Putting that mess aside, Ocasio-Cortez's answer to the repeated question of where the other $38 trillion would come from took the form of vague, pleasant-sounding bromides like "We do know and acknowledge that there are political realities. They don't always happen with the wave of a wand but we can work to make these things happen."
When asked specifically about Medicare for All, she sidestepped the question, submitting only that other major nations had socialized medicine and that Medicare for All would somehow ultimately save this nation money over time. She waxed anecdotal:
A year ago I was working downtown in a restaurant(!). I went around and asked 'How many of you folks have health insurance?' Not a single person did because these — they're paying — they would have had to pay $200 a month for a payment for insurance that had an $8,000 deductible.
The plan she describes sounds a lot like Obamacare.
It's not hard to imagine Ocasio-Cortez standing in a college auditorium, debating the Republican contender for the seat representing New York's 14th congressional district. As she fumbles through her meaningless pie-in-the-sky generalities, it's also not hard to imagine roars of approval from the equally clueless audience members who voted for her during the primary.
That's a scary thought.
WATCH: Alexandria Ocasio-Cortez can't explain where she'd get the $40 trillion to give away all the free stuff she's promised… and Jake Tapper's confused/frustrated looks at her rambling is priceless. pic.twitter.com/ZW8y2v0MIy

— Tim Young (@TimRunsHisMouth) September 17, 2018