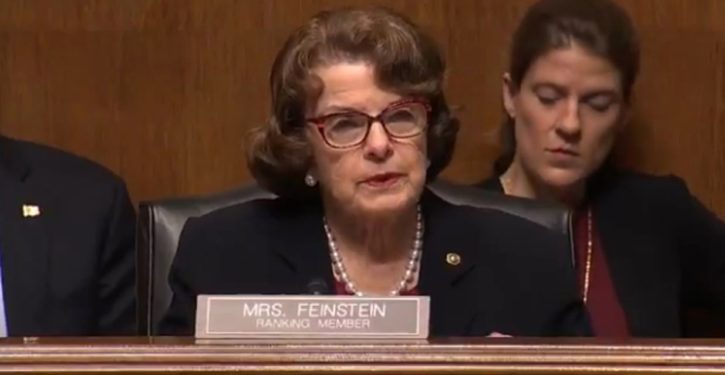 Cleaning up computer keyboards and screens after a projectile spit take can be a nasty affair, which is why we advise you to put down your morning coffee before proceeding.
After it was reported yesterday afternoon that Dianne Feinstein, the senior Democrat on the Senate Judiciary Committee, had "fresh dirt" on Supreme Court nominee Brett Kavanaugh, the mainstream media stopped their collective presses. The New York Times reported that "a letter, which was first sent to the office of Representative Anna Eshoo, Democrat of California" and forwarded to Feinstein "accuses the judge of sexual misconduct toward the letter's author, a person familiar with the letter confirmed."
The sense that this was a major development was reinforced by the grave tone of Feinstein's statement:
I have received information from an individual concerning the nomination of Brett Kavanaugh to the Supreme Court. That individual strongly requested confidentiality, declined to come forward or press the matter further, and I have honored that decision. I have, however, referred the matter to federal investigative authorities.
What Feinstein failed to mention in her statement is that she has been sitting on this piece of "evidence" since July. She never addressed it during the confirmation hearings or even during her one-on-one session with Kavanaugh, leading skeptics to call this an eleventh-hour, last-ditch ploy to derail the judge's confirmation.
Trending: Dragging it out: Judge Sullivan appeals writ of mandamus ruling on Michael Flynn case
So what was actually in the letter that Feinstein sent to the FBI? The Guardian writes:
A source who said they were briefed on the contents of the letter said it described an incident involving Kavanaugh and a woman that took place when both were 17 years old and at a party. According to the source, Kavanaugh and a male friend had locked her in a room against her will, making her feel threatened, but she was able to get out of the room. The Guardian has not verified the apparent claims in the letter. It is not yet clear who wrote it.
That beast! He and another teenage friend pranked another teen by locking her in a room from which she was able to escape.
The reactions from the Right have been predictable:
https://twitter.com/HashtagGriswold/status/1040385723541676032
You wally, @imillhiser. https://t.co/ySGleYdHN5

— Charles C. W. Cooke (@charlescwcooke) September 13, 2018
Hold up.

That's the thing? It wasn't even about high schoolers hooking up?? https://t.co/macF7BXxxG

— RBe (@RBPundit) September 14, 2018
This "scandal," if in fact the incident turns out to be nothing more than what The Guardian reported, should do wonders for Democrats at the ballot box come November.