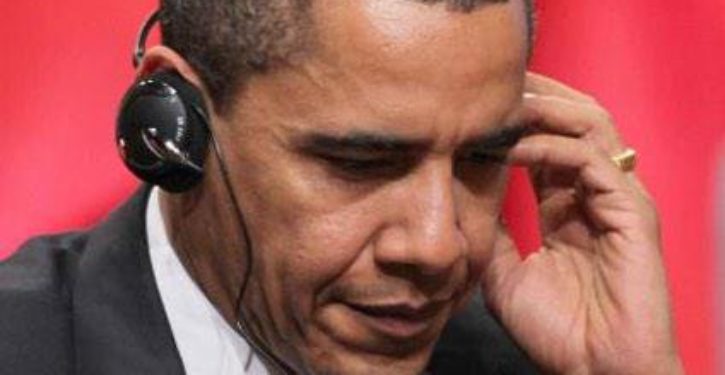 Barack Obama's comment yesterday that he complained about Fox News but never threatened to shut them down or call them enemies of the people has gotten a lot of play. Some on the Right have pointed out that his Justice Department seized the phone records and personal email logs of Fox News reporter James Rosen, as well as calling him a "co-conspirator" in the the secret search warrant used to tap his records.
But one thing commentators on both sides of the ideological spectrum seem to have lost sight of is that Obama was hostile to all comers in the press, especially during his second term. Much of this was paranoia on his part, but it negatively impacted his relationship with a media that by and large carried his water throughout much of his presidency.
His administration went after journalists other than just Rosen for the crime of doing their jobs. One of them, New York Times reporter James Risen, was threatened with jail time for refusing to divulge the name of a former CIA agent who leaked information about the U.S. military's nuclear program. For his trouble, Risen called Obama "the greatest enemy of press freedom in a generation."
Two of Risen's colleagues at the Gray Lady were equally critical of Obama's treatment of the media. One of them was former Times executive editor Jill Abramson, who called the Obama administration "the most secretive White House I have ever been involved in covering." The other was veteran Times reporter David Sanger, who covered the Washington beat for two decades. According to him, the Obama administration was the "most closed, control-freak administration" he ever covered.
In 2013, former Washington Post executive editor Leonard Downie took a long look at the Obama administration's track record on secrecy. He found that Obama's lofty claim that "a free press, free expression and the open flow of information helps hold me accountable, helps hold our government accountable and helps our democracy function" was betrayed by his actions. Under Obama's stewardship, the federal government used a secret subpoena to compel the Associated Press to release two months worth of phone records for the 20 phone lines used by more than 100 AP reporters in three news bureaus, as well as the House of Representatives.