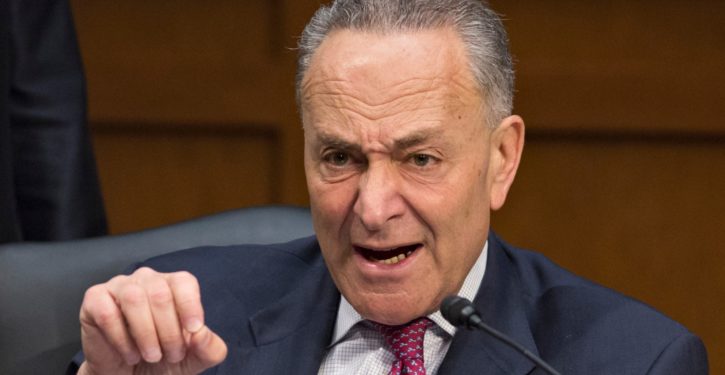 By Peter Hasson
Senate Minority Leader Chuck Schumer has remained tight-lipped about Democrats' plans for impeachment if they retake Congress in November, but he tipped his hand while marching in a Labor Day parade Monday.
"When are you all going to impeach [President Donald] Trump?" a parade onlooker asked in a video uploaded to YouTube.
"The sooner the better," Schumer said into his megaphone.
Trending: Concluding Dan Bongino's point: The Obama order that tells us it was a coup attempt from the start
"The sooner the better — that's not answering the question," the man insisted.
"We gotta get a few Republicans," Schumer replied in the video, which was first flagged by conservative publisher NTK Network.
"We Democrats are on your side," Schumer added.
Democratic leaders have faced constant pressure from the party's base to publicly demand Trump's impeachment, although they have held off doing so in order to avoid motivating Republican voters ahead of the midterm elections.
Both Schumer and House Minority Leader Nancy Pelosi have tried to steer their caucuses clear of the impeachment question. (RELATED: Prominent Democrats Keep Destroying Norms To Go After Trump)
Democratic California Rep. Maxine Waters, in contrast, started pushing for Trump's impeachment before he even took office.
Content created by The Daily Caller News Foundation is available without charge to any eligible news publisher that can provide a large audience. For licensing opportunities of our original content, please contact licensing@dailycallernewsfoundation.org.