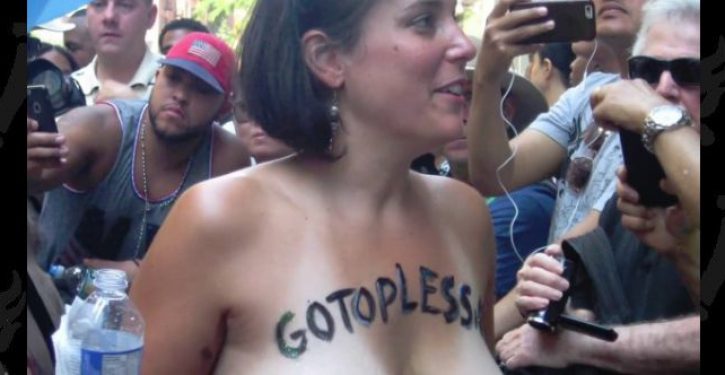 This coming Sunday, feminists of all persuasions will assemble once again in cities across the nation for another edition of GoTopless Day, a day of the year set aside for to women bare their breasts — both literally and figuratively — and parade through city streets (much to the delight of gawkers).
In Denver, which was the site in 2016 of a battle between members of the Free the Nipple coalition and city officials enforcing an ordinance on public decency, this year's GoTopless Day will serve a dual purpose.
In addition to asserting women's right to emulate men, who are free to appear shirtless in public, this year's march will celebrate "gender equality."
The headline of an article at Baltimore ABC affiliate WMAR suggests that the protest in Denver has always been about gender equality, which seems curious. The term gender equality after all — which derives from a bastardization of the word gender to mean "the state of being male or female in terms to social and cultural differences rather than biological ones" — emphasizes the putative sameness of people under the skin. In the liberal view of the world, a person born with male plumbing can claim to be of the female "gender" and vice versa.
But public nudity accentuates external differences. It showcases the very real way in which men and women are not equal, at least in physical attributes.
According to WMAR this year's turnout is expected to rise above 1,000.
Those who think the whole idea sounds ludicrous should take comfort in the fact a secondary movement, a national GoBottomless Day, never caught on.