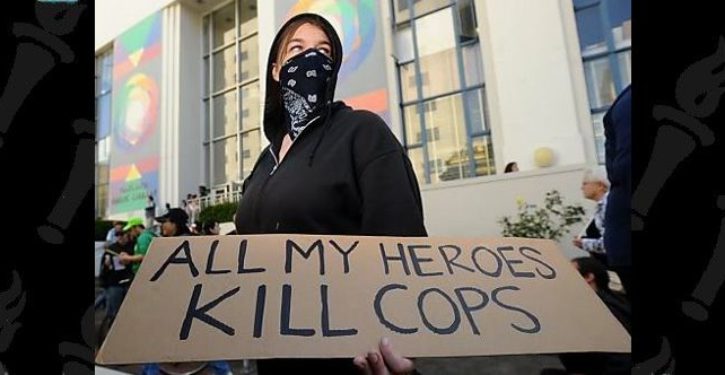 It doesn't rise quite to the level of justice-involved youth (the Obama administration's kinder and gentler replacement for "juvenile delinquent") or even man-caused disasters (its "no-fault" alternative to "acts of terrorism"). But the Left's new preferred name for the ragtag band of cowardly radicals who call themselves Antifa would still raise a smile if the whole business weren't so insidious.
As has been stated elsewhere, this publication holds no brief for white supremacists. To the degree that the "Unite the Right" rally in Washington on Sunday was intended to be a replay of the tragedy that unfolded last year in Charlottesville, in which one woman was killed, we hold its organizers accountable for any injury to people or property that might have occurred.
Regardless of intent, however, Sunday's rally was not a reprise of Charlottesville. The Washington Post acknowledges as much in the opening paragraphs of this story:
White supremacists held a rally in Washington on Sunday, and almost no one but their opponents and the police showed up.

Jason Kessler, one of the organizers of last year's violent and deadly "Unite the Right" rally in Charlottesville, wanted to hold an anniversary demonstration there, but the city wouldn't let him. So he brought his show to Washington, where he hoped 400 supporters would join him for a rally at Lafayette Square, across from the White House. Fewer than 40 turned out.

The group was met by thousands of protesters who filled their half of the leafy, seven-acre park chanting "Go home, Nazis!" "No Trump! No KKK! No fascist USA!" and "Black lives matter!" They drowned out whatever message Kessler and his small band of followers had hoped to deliver — and that was their goal. [Emphasis added]
The tone of the writing betrays a hint of triumphalism — almost gloating — and therein lies the rub. There were no "good guys" in Lafayette Square on Sunday … unless you count the police. The Post does indicate a "massive police presence" but downplays Antifa's view of law enforcement as "racist" and "the enemy." Other than a brief mention of a "confrontation between some antifa, or ­anti-fascist, protesters and police long after the rally had ended," Antifa's anti-police posture (the night before the D.C. rally, protesters in Charlottesville chanted "All cops are racist, you better face it") is omitted.
To whitewash Antifa's conspicuous lust for violence and its hate-mongering in an article like this is journalistic malpractice. But the Post doesn't stop there. Rather, its writers go so far as to label Antifa "anti-hate protesters":
City leaders and law enforcement officials were determined that the event would not be a repeat of the mayhem in ­Charlottesville last year, when city police and Virginia state troopers allowed white supremacists and neo-Nazis to clash in the streets with anti-hate protesters. [Emphasis added]
They even carry this noxious term over into the title of the piece: "White-supremacist rally near White House dwarfed by thousands of anti-hate protesters."
The Post isn't the only mainstream publication to use this absurd term. Here's a screen capture of a chyron from a CNN story on Sunday's rally:
The Left bristles at the notion that they aren't honest brokers of the news any longer. Yet public trust in the media is at an all-time low. If outlets like The Washington Post and CNN want to restore that confidence — and they claim they do — maybe the answer is not to denigrate stories from the Right but to own up to and desist from their own hyper-partisanship.