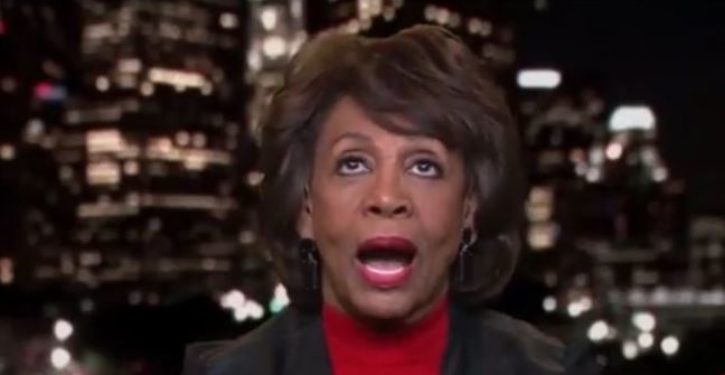 Attending to this nuisance will certainly take up time that she would ordinarily devote to her campaign to "impeach 45."
Rep. Maxine Waters (D-Calif.) has been hit with an FEC complaint regarding how she raises campaign money and why a substantial portion of that money has flowed into the bank account of her daughter.
The congresswoman has reportedly raked in hundreds of thousands of dollars to add names of other state politicians to her slate mailers. Those mailers, something the Los Angeles Times has described as "sleaze," resemble an "official sample ballot" with quotes from Waters explaining her support.
In the last election cycle alone, she hauled in $56,000 through this operation.
Since 2004, Waters' daughter has been paid over $750,000 to mail out such campaign flyers.
The National Legal and Policy Center (NLPC) filed the complaint on July 26th, alleging that Waters had "violated federal election law in a transaction related to her so-called slate mailer during her last re-election campaign."
EXCELLENT: FEC Complaint Filed Against Rep. Maxine Waters Alleging 'Slate Mailer' Election Law Violations https://t.co/SYNRgDlUMM via @nlpc

— Robo Ben (@1RoboBen) July 26, 2018
The complaint also names the California Democratic State Central Committee and Sen. Kamala Harris, a probable 2020 Democratic presidential contender.
The NLPC is drafting a broader complaint aimed at "focusing on the sources of money going to the Waters campaign and flowing to her daughter," according to a Fox News report.
"The main beneficiary of the slate mailers appears to be companies controlled by Waters' daughter Karen Waters, which have received hundreds of thousands of dollars to produce the mailers," the network wrote. "Critics have charged that Waters' slate mailers are a way to evade contribution limits."
Indeed, a 2010 report demonstrates that Waters was able to double, triple, or even quadruple campaign contributions meant for individuals by using the slate mailer routine.
When Maxine Waters encouraged violence against Trump Cabinet members, it wasn't the first time she displayed behavior unbecoming of a federal lawmaker. She's been embroiled in many other controversies… including abusing power to enrich family members. https://t.co/o7aseSgvI8

— Judicial Watch ???? (@JudicialWatch) August 1, 2018
This isn't the first time Waters has run afoul of ethical matters involving close family members.
She had previously been named "one of the most corrupt members of Congress" by the Citizens for Responsibility and Ethics in Washington. Concerns first arose from a case that involved steering $12 million in bailout funds to a bank where her husband sat on the board.
How a congresswoman once dubbed the "most corrupt" is now a star of the resistance https://t.co/mH7qiBUHFb

— Jake Tapper (@jaketapper) May 30, 2017
Waters represents a district that has the second highest black population in California, but the affluent neighborhood she actually lives in is only 6% black.
Perhaps distance makes it easier to scam the black community while she enriches her own family members.
Despite these unethical tactics, Waters actually had the gall to attack President Trump for hiring Ivanka Trump as an unpaid assistant.
Hey Democrats, why even mess around with Elizabeth Warren, go for the whole enchilada
MAXINE WATERS FOR PRESIDENT!!!

— Charlie Daniels (@CharlieDaniels) August 1, 2018
"[Trump's] going to play politics and give his daughter a chance to have a place in the sun and to be seen at a very important meeting that she knows nothing about," Waters complained at the time.
"She doesn't know anything about these issues," she continued, seemingly unaware of her own lack of knowledge on most matters.
Waters is facing Republican Omar Navarro, a small business owner in the November election, where she will try to sell constituents on her sole platform of taking out Trump.
Cross posted at the Mental Recession