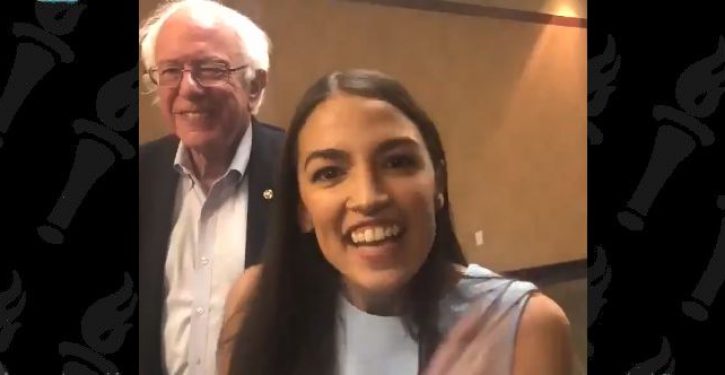 Maybe this is an indication of how Socialists think, but once and future presidential hopeful Bernie Sanders is in Kansas trying to drum up support for progressive underdogs Brent Welder and James Thompson challenger Brent Welder. Since Kansas hasn't voted for a Democrat since 1964, it would seem Sanders's time and effort could be better spent.
Maybe in the hopes that some of her magic can rub off on another Democratic challenger, Sanders has brought with him Alexandria Ocasio-Cortez, who defied all odds in her primary win over veteran Democrat Joe Crowley in New York's 14th congressional district.
At a time when the Democratic Party is struggling to find its voice, sending Sanders and Ocasio-Cortez out on the campaign trail together also seems strange, especially given Ocasio-Cortez's penchant for saying something the party's leaders will later regret. Just yesterday, for example, she called for the occupation of airports as a way of reining in ICE.
But that doesn't come close to the dumbest thing she said yesterday. At a joint press conference with the senator, she made an unfortunate slip of the tongue, announcing that "we're going to flip this seat red in November." Watch.
https://twitter.com/BernieSanders/status/1020447912487280648
Twitchy magnanimously quips, "Maybe she means red as in the signature color of communism?"
Apparently, Sanders missed the gaffe, since he is the one who published the tweet containing it.
In an earlier tweet, he demonstrated his ignorance of what the country is made of by insinuating that socialism is popular outside of the fringe element of the Democratic Party he occupies.
What we fight for is not just popular in Vermont, Queens and the Bronx, it's popular everywhere. I'm excited to rally in support of @JamesThompsonKS with @Ocasio2018 this Friday in a venue that's now much larger than we had originally planned for! https://t.co/kOBWXa8Ipi

— Bernie Sanders (@BernieSanders) July 19, 2018