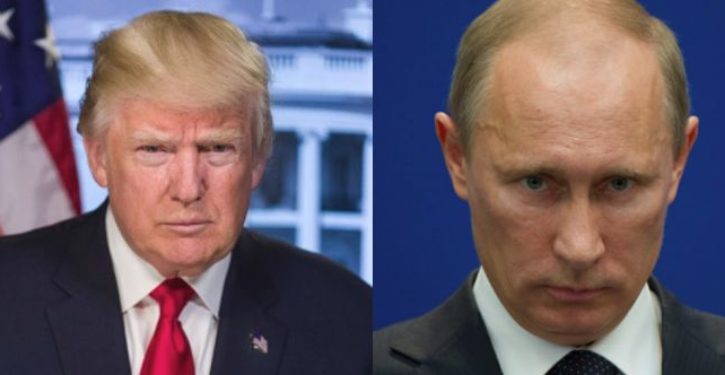 That the mainstream media and prominent liberals would take issue with anything Donald Trump said following his meeting with Vladimir Putin in Helsinki was baked into the cake long before the meeting was held. But it would have been hard to predict the exact nature of their reactions to what the U.S. president actually did say that was short of challenging Putin to a fist fight or a duel on the spot.
Granted, Trump provided some openings for criticism with a few of his more poorly chosen words as chronicled by J.E. Dyer in her excellent analysis (e.g., calling Putin's denial of meddling in the 2016 election "strong and powerful"). But it would — and has been — challenging to defenders of former CIA Director John Brennan to validate his tweet claiming that Trump's performance in Helsinki rose to and exceeded the threshold of "high crimes & misdemeanors."
But there are far more flagrant offenders than Brennan. One is CNN veteran commentator John King, who exclaimed, "I've never seen an American president surrender to the leader of Russia" (11:43 in the video that follows):
King prefaces his comments by informing the viewer he's been covering U.S. presidents dating back to Ronald Reagan, so presumably he witnessed Barack Obama's abandonment in 2009 of George W. Bush's plan for a European missile-defense shield to be built in Poland. Of course as a member of the "elite" [read: leftist] media, King no doubt saw this move the same way ABC News did: not as a sign of weakness but as a healthy change in "the dynamic of what has been an increasingly tense relationship between the U.S. and Russia, which viewed the Bush plans … as a threat."
Trending: Muslim scientist invents anal suppository that she claims cures homosexuality
In her Fox News Channel show last night, Laura Ingraham addressed this and two other Obama "profiles in courage" in handling the U.S.'s fractious relations with Russia and its allies (5:07 in the video that follows):
Then there's Rep. Steve Cohen (D-Tenn.), the man who last week expressed his belief that disgraced FBI agent Peter Strzok should receive a purple heart for his willingness to submit to, though not necessarily answer, tough questions by House Republicans.
Cohen's reaction to Trump in Helsinki was to call for a military coup (which he has since claimed wasn't really a call for a coup):
Where are our military folks ? The Commander in Chief is in the hands of our enemy! https://t.co/3eF7OLKEdN

— Steve Cohen (@RepCohen) July 16, 2018
But if a booby prize were given for the most over-the-top reaction to Trump's comments, it would go to onetime Watergate prosecutor Jill Wine-Bank and to MSNBC for giving her a bully pulpit from which to compare the crimes by the nine indicted Russians to 9/11. Her reaction to the president is likewise the most ludicrous of any critic:
"His performance today will live in infamy as much as the Pearl Harbor attack or Kristallnacht."

– Fmr. Watergate Prosecutor Jill Wine-Banks on Trump's comments at the Helsinki summit pic.twitter.com/pp5YuNw1pi

— Ali Velshi (@AliVelshi) July 17, 2018
For your convenience, you may leave commments below using either the Spot.IM commenting system or the Facebook commenting system. If Spot.IM is not appearing for you, please disable AdBlock to leave a comment.