You might have seen this in your own local newspaper last week.  Daily Mail found that at least 21 outlets across the U.S. ran the same "letter to the editor" against Supreme Court nominee Brett Kavanaugh, including papers like the Washington Times and the Dallas Morning News.
Daily Mail describes the media outlets as being "duped" into running the letters.  But it's not clear how they would avoid running them, or be certain in advance that such letters were not part of a coordinated campaign.  The local papers can't know if submissions from readers are campaign form letters until the text has run elsewhere at least once.  And any sizable city will have local activists willing to submit letters to the media under their names — or even under assumed names claiming local residency.
As Daily Mail notes, on the other hand, political activists can also use applications to generate letter campaigns with identical or near-identical text:
Creating the illusion of popular support by littering newspaper opinion pages with phony letters is nothing new.

In 2004 the liberal group MoveOn.org launched a website tool that generated editorial letters for its members promoting the Michael Moore film 'Fahrenheit 911.' All it required was a name, hometown and ZIP code.

The program provided users with sample sentences and a salt-to-taste text editor. Many left the stock message the way it was and clicked 'send.'
The article indicates Republicans had used the method the year before, and that it has been used a number of times since by both sides of the political aisle.
Daily Mail says National Review contributing editor Quin Hilyer was the first to spot the letter campaign last week.  It isn't clear who's behind it; previous culprit MoveOn.org says they're not involved, as do the far-left groups DemandJustice and Protect Our Care.
One distinct possibility, of course, is the far-left group Indivisible, which has been sponsoring nationally coordinated Astroturf efforts since early 2017 (see here, here, and here as well).  Indivisible's focus on showing up in local civic venues — town halls, city council and county commission meetings, rallies for left-wing causes — would comport well with the "letters to the editor" shtick, especially in a campaign directed mostly at mid-size cities.
It's something to be on the lookout for.  Letters are typically edited for space, and to avoid the worst spelling and syntax errors, so it isn't especially informative to see that a letter looks a bit smooth or formulaic.  Readers will just have to beware.
Ultimately, by abusing the forum, fake-letter generators could well lose it as an outlet for insinuating propaganda themes.  Even if the media continue to run letters from the public, readers will be less and less likely to trust what they're seeing and engage with it.
Some of the snapshots of the fake-letter campaign are below, courtesy of Daily Mail.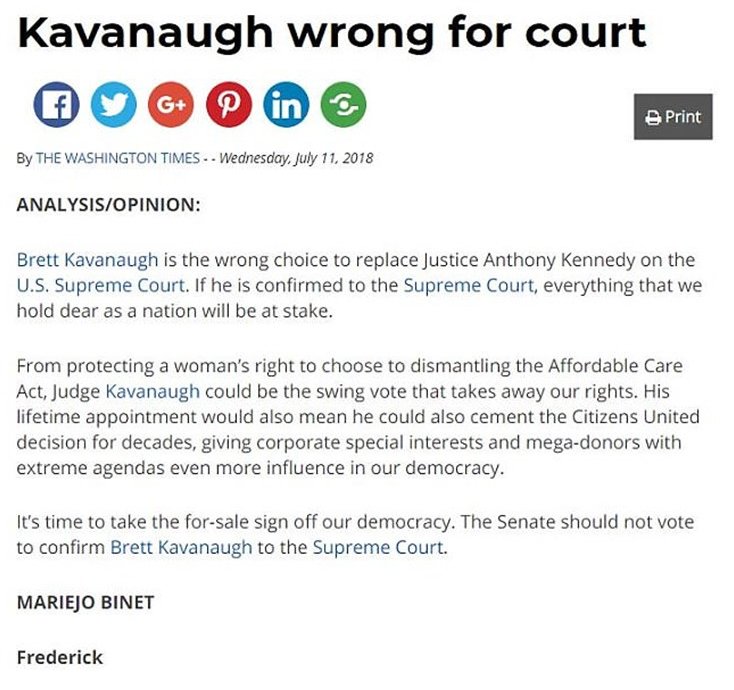 Some of the media outlets took the letters down when they discovered the fake-letter trolling.