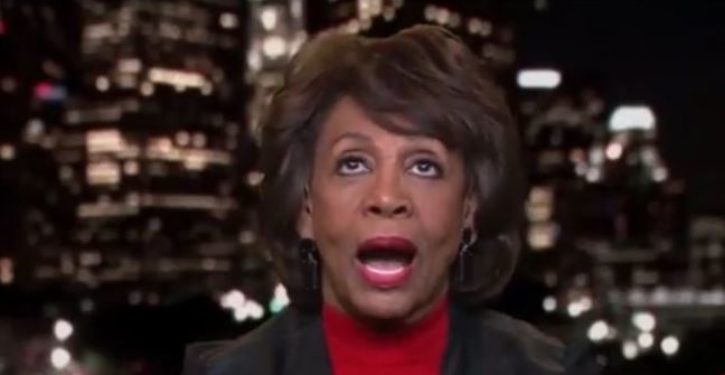 Don't bother with the "take a drug test" and "blow into a breathalyzer" shtick. CNN commentator John Phillips is a step ahead of you, acknowledging in his column in the Los Angeles Daily News that the nomination of Rep. Maxine Waters as the 2020 Democratic nominee for president is a super-long shot.
"How," he asks, "is it possible that a radical congresswoman, who was just called 'un-American' by the leadership of her own party for encouraging viral confrontations with Trump administration officials, could win the presidential nomination of a major American political party?"
In the next sentence, he answers his own question, at least to his satisfaction: "It's easy. Mad Max is the only one dancing to the beat of the 'Resistance,' and her album is about to go platinum."
He never explains the final analogy in that tortured extended metaphor. (He does go into a lengthy disquisition on Michael Jackson and Prince, which I will skip over in the interests of staying on-topic.)
But what is his rationale for his admittedly outrageous prediction? It's that Waters has "the right stuff" that positions her to follow the same path that led primary candidate Donald Trump to the Republican nomination.
First of all, she is coarse, like Trump — a property which those who impute it to Trump claim was an ingredient in his success. One of her favorite targets is Housing and Urban Development Secretary Ben Carson, whom she has called an "educated fool" and whose "ass" she has threatened to "take apart."  But "[s]ince she gets their beat," writes Phillips, liberals "don't care if her lyrics are profane or off key."
Second, Trump rose to prominence among the field of GOP candidates by vowing to undo all the damage done by Barack Obama in his "fundamental transformation" of the country. In making this pledge, Trump addressed the anger, frustration, and rage of many voters in our center-right nation. Apropos of this, Phillips asserts, no one "on the Democratic side of the aisle … has better expressed the anger, frustration and rage of the 'Resistance' better [sic] than Maxine Waters."
Even if one concedes that Waters is the most passionate guidon bearer for the amorphous "Resistance," there are fundamental differences between her and Donald Trump that John Phillips is overlooking.
One is their comparative economic acumen. Trump, with some flubs, has been an inordinately successful real estate mogul. While he has run a vast business empire, about the only thing Maxine Waters has run is the congressional district in Los Angeles that has reelected her for the past 28 years — and that she has run into the ground.
Another is their comparative age. Waters will turn 80 this coming August — and it shows. In another of her tirades against Ben Carson, she referred to him as a "white-wing nationalist," one of many recent occasions where she has tripped over her words. Another, and this may have been out-and-out ignorance, occurred in June of 2017 when she bemoaned the fact that 700 billion Kentuckians would lose their health care coverage if Obamacare were repealed and replaced.
Currently, the Democrats are desperately in search of a message. Efforts to beat Donald Trump at his own game have failed, and so has their attempts at kindling enthusiasm for impeachment. When the party does get around to choosing a nominee to up against the incumbent in 2020, it's not likely they're going to select an aging relic like Maxine Waters, no matter how loud or profane she gets.