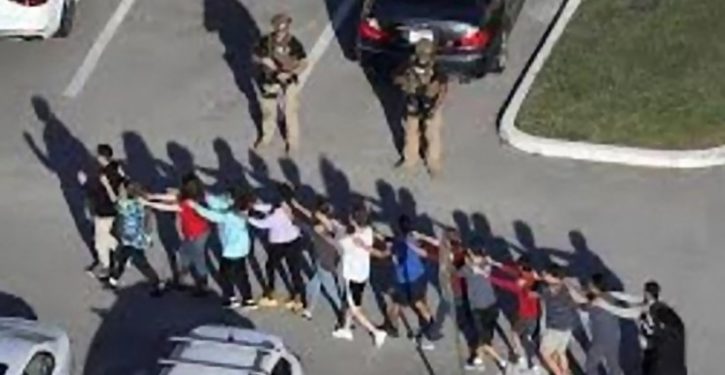 Yesterday, LU reported that the Broward County sheriff's captain who ordered deputies to "stage" outside Marjory Stoneman Douglas High School rather than enter the building as bullets flew has belatedly been replaced.
Now as publicity-hungry student "activists" from the school embark on a 20-city tour, a new piece of evidence has emerged that reveals that the school administration was itself complicit in the massacre.
According to the SunSentinel, two months before the shooting, Steve Wexler, a retired Secret Service agent whose own children graduated from Stoneman Douglas, "warned administrators that the school could be vulnerable to a gunman."
Wexler told reporters he had been invited to analyze the school's security and present his recommendations to staff members. For the analysis, he strolled "through the school with Post-it notes, attaching them to places his bullets or knife would land if he were an intruder."
Trending: Great Replacement Theory is fueled by woke progressives gloating about America becoming non-white
What he found was sobering:
Gates were unlocked. Students did not wear identification badges. A fire alarm could send students streaming into the halls. Active-shooter drills were inadequate, he said.

[…]

"I said, 'This stuff is blatantly obvious. You've got to fix this,'" Wexler said.

He never heard another word from the district. …
Now, again belatedly, a state commission wants to speak with Wexler. "We're aware of him," said Pinellas County Sheriff Bob Gualtieri, who is in charge of the commission. Several full-time investigators are still lining up interviews, but "we're interested in talking to him," Gualtieri said.
That's all well and good … provided they listen this time.