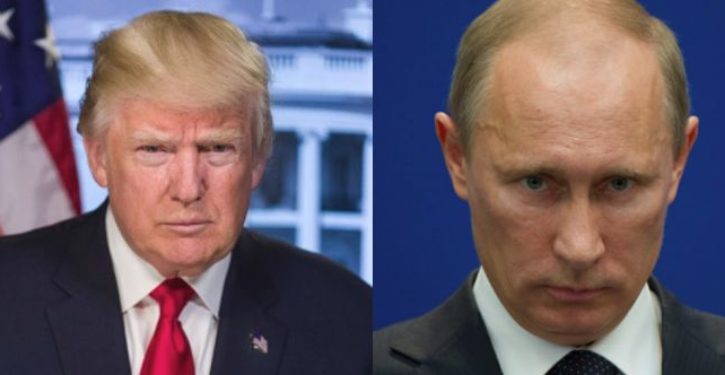 [Update at the bottom. – J.E.]
I'm getting questions about Syria.  It's tax week, so there's that.  But I also don't know that in any other week, I'd want to say a whole lot.  We can see from the rather odd nature of the signals coming out that this probably won't be a garden-variety smash-and-dash.  I do think we're planning something real, but I don't want to publish extended speculation about it.  (I don't think it will involve more boots on the ground than we have already.  I do think it will involve allies.  I don't see it launching "World War III.")
What I'm going to do here is copy in a couple of informal responses I've made so far.  Let me start by saying that Nikki Haley sent one of the strongest signals about this whole thing when she called out Russia at the UN.  For one thing, her doing that means we really, no kidding, have intelligence that Assad did this.  We're not just guessing.
For another thing, it means we're looking at Russia as our persuasion target.
Trending: Policing 'reform' bill could lead to gender-based police stops and racial profiling of Asians or whites
So, the responses.  One was prompted by the tweet yesterday from a Syria observer about air traffic over Syria.  Some of you may have seen it; if you click to the original tweet, the screen cap of the FlightRadar24 map is there.
#BREAKING
Airline companies which are operating in Middle-east received a request to change their routes for the next 48 hours, as proposed #US wide scale attack on #Syria approaching.

— Barzan Sadiq (@BarzanSadiq) April 10, 2018
My response to the correspondent who forwarded it.
This particular report is strangely worded and rather "off."

Only commercial flights to/from Syrian airfields typically use Syrian airspace these days anyway.  This warning would be almost exclusively for Russia, Iran, and Qatar (which is still going in and out of Damascus). [Note: Barzan Sadiq mentions Kuwaiti flights as well in a later tweet.]

The implication is certainly that something will happen, but the warning is for a specific audience. This tweet doesn't say who it came from, although I've seen the UK tabloids saying that something along these lines was put out by the EU's civil aviation authority.  [On Wednesday, aviation specialty sites have all picked it up, so it looks legit, although still odd.]  That's actually odd (and the 48-hour window is VERY odd, if this is meant to clear the airspace for a strike), but I don't want to overinterpret it.  It could be that we're just seeing odd things because this is a new development unfolding; i.e., a joint strike package under Trump involving NATO partners.

Regarding responsibility for the Douma attack, that's something the US and UK have a very good basis for intelligence on.  The language Nikki Haley used to rebuke Russia at the UN tells me we're pretty sure Assad did this.  We're not just guessing or drawing circumstantial conclusions.  State and Defense had to concur on the advisability of using such language about the attack, and apparently they did.

The way this is being done, I do wonder what the end-game is.  There's a weird amount of prior warning being given.  Almost makes me think Russia is being incentivized to cooperate in a change of course of some kind.  This isn't what preparing for a strike usually looks like.  But maybe that's all it is.
The other was in response to a general question from a friend about an assessment on Syria.
We're legitimately conveying the threat of a strike, one that could undo some of the Iran-Russia-Assad gains of the last 6 months. If Russia doesn't change course on Assad, we'll do it. If Russia does play ball, we could make a demonstration with a smaller strike, or just wave bye to Assad as he heads to Russia. There may be a negotiation (ahem) going on with Russia in the back room. If all we're doing is preparing a one-off strike, we're sure taking the long way around the barn to get to it. But maybe we're doing that for some reason. That's my story and I'm sticking to it.
That's it, for now.  Stay tuned.
*UPDATE*: OK, one more, because I just can't help myself.  But really, taxes.
Further reports show 22 Syrian Sukhoi warplanes have flown over Iraq & landed in Shahid Vahdat airbase in Dezful, SW #Iran, the M15 airbase in Kermanshah, W Iran, & the Fakuri airbase in Tabriz, NW Iran.
IRGC bases are on high alert.
(2/2) pic.twitter.com/llUEtXWFZi

— Heshmat Alavi (@HeshmatAlavi) April 11, 2018
Saddam did the same thing with his MiG-29 fleet in 1991.  Flew them to Iran shortly before the air interdiction phase started against him on 16 January 1991.  He also reportedly sent some F-1 Mirage fighters to a third country.