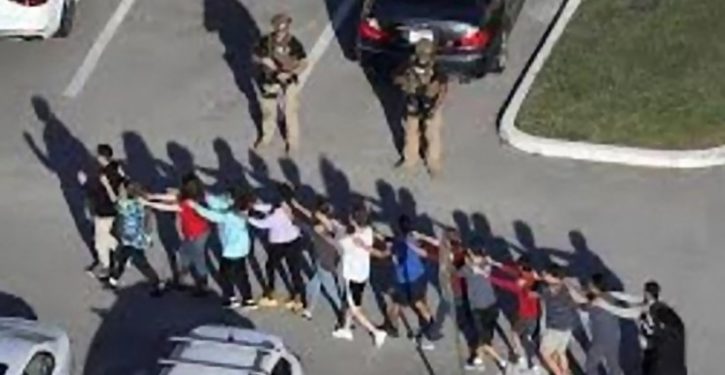 After the tragic massacre at Marjory Stoneman Douglas High School in Parkland, Fla., last month, the much-maligned Broward County Sheriff's Department underwent a major realignment. Deputies tasked with student and staff safety at all county schools were armed with semi-automatic weapons, and the number of such officers was increased.
So how is the new beefed-up security working out so far? It's not off to a promising start, according to an article in yesterday's Miami Herald reporting that a "deputy assigned to protect the very building on the Parkland campus of Marjory Stoneman Douglas High School where 17 people were shot and killed last month was suspended Tuesday for taking a nap in his patrol car."
The Broward Sheriff's Office said Moises Carotti has been suspended with pay at least until an internal affairs investigation was completed. BSO said at just after 5 p.m. Monday a student notified another officer on campus that Carotti was sleeping in his car.

"The sergeant responded to the marked patrol vehicle, which was parked on the Northwest corner of the 1200 building," BSO wrote in a press release Tuesday. "He knocked on the window to get Carotti's attention, who appeared to be sleeping."
Trending: GOP senators demand to see 'highly classified' FBI memo about the Hillary probe
The paper reports that Carotti was ordered to turn in his badge and that another officer was assigned to take over his detail, but it's hard to see how that's not just more of the same. As noted in these pages, deputies were grossly remiss on Feb. 14, the day of the shooting. Scott Peterson, the "resource officer" assigned to Stoneman Douglas, stood idly by outside the school by as shots rang out inside. Nor was he the only derelict member of the force. Three additional deputies arrived at the school and followed Peterson's lead, forming "a perimeter" outside the building rather than springing into action.
Now comes this latest snafu. Maybe until decisive action is taken, beginning with the firing of Sheriff Scott Israel, the hashtag #NeverAgain, which has attained prominence since the shootings, should be replaced by "#NeverLearn."
For your convenience, you may leave commments below using either the Spot.IM commenting system or the Facebook commenting system. If Spot.IM is not appearing for you, please disable AdBlock to leave a comment.