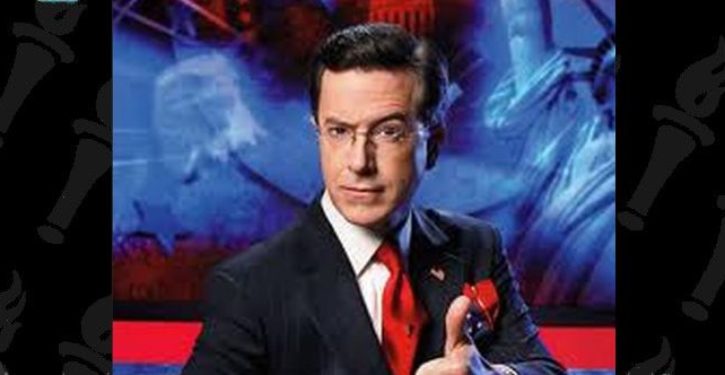 Who knew it was that simple? When the nation is faced with a seemingly insoluble problem, turn it over to a bunch of mad-as-hell kids and watch what happens.
That seems to be the gist of a tweet by MSNBC contributor and former Democratic fundraiser Scott Dworkin, who writes on Twitter:
Look at the gigantic crowd of teens at Union Station in DC headed to the US Capitol to protest. Wow. These kids are gonna save us all.
To let everyone know how deeply he grasps the problem himself, he appends the hashtag #BanMachineGuns to his tweet.
Look at the gigantic crowd of teens at Union Station in DC headed to the US Capitol to protest. Wow. These kids are gonna save us all. #NeverAgain #BanMachineGuns pic.twitter.com/tDjf0Kunan

— Scott Dworkin (@funder) February 21, 2018
It's hard to know whether Dworkin is more impressed with the sheer numbers, the fact that this sea of humanity is comprised of teens, or both, but there's no mistaking where Tonight Show host Stephen Colbert comes down on this issue. Last night during his monolog, Colbert ran a clip of teen celebrity du jour David Hogg lambasting adults, then said:
He's right. The adults aren't cutting it anymore. I think we need to change the voting age. Until we do something about guns, you can't vote if you're over 18. [Emphasis added]
So what are some of the ideas the kids are advancing to end incidents like the one last week in Florida? Here's what Alex Wind, one of the survivors of the Parkland shooting, said in an interview on NBC's "Meet the Press" (via Vox):
We're marching because it's not just schools. It's movie theaters, it's concerts, it's nightclubs. This kind of stuff can't just happen. You know, we are marching for our lives, we're marching for the 17 lives we lost. And we're marching for our children's lives and our children's children and their children.
OK, he didn't say much, but maybe that just wasn't a good example. Let's try another. Here's Cameron Kasky, a junior at Marjory Stoneman Douglas High School, who said on ABC's "This Week" (via the Huffington Post):
People are saying that it's not time to talk about gun control, and we can respect that. Here's the time: March 24. In every single city, we are going to be marching together as students begging for our lives. This isn't about the GOP. This isn't about the Democrats. This is about the adults. We feel neglected. At this point, you're either with us or you're against us.
Hmm. I'm getting the sense that so far these student leaders of the upcoming march haven't said anything that qualifies as a plan to end the carnage. All they've done so far is rail out against adults or give the logistics about the rally they're planning.
That Dworkin and Colbert find these statements impressive says more about them than it does about the kids.