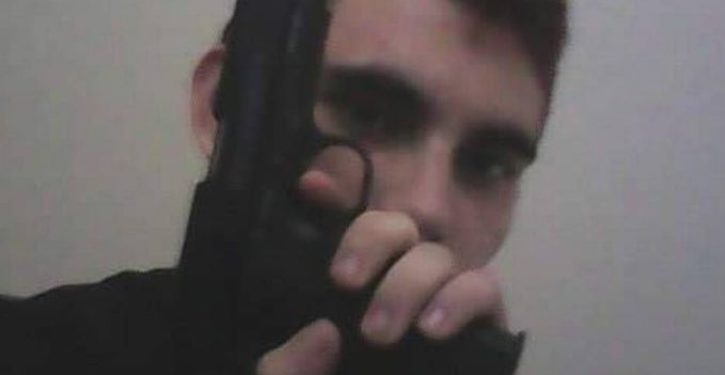 The teenager who shot and killed 17 of his former classmates last Wednesday at a high school in southern Florida wasn't a lone wolf. There was nothing secretive about Nikolas Cruz's demeanor or his intentions. Deputies with local law enforcement were summoned to his family home 39 times over a seven-year period.
Yet when a concerned citizen contacted the FBI five months ago to inform them that someone named Nikolas Cruz had boasted on Facebook that he was "going to be a professional school shooter," they briefly investigated the tip, then closed the case.
The agency either missed or chose to ignore an Instagram message to a fellow student named Enea Sabadini that read, "I'm going to f*cking kill you. I'm going to watch you bleed. You have no idea what I'm capable of."
According to BuzzFeed News, Cruz also repeatedly threatened Matthew Rosario, a classmate who had started dating Dana Craig, Cruz's ex-girlfriend. In 2017, Cruz was expelled from school for what the local sheriff called "disciplinary reasons." The New York Times reports that he was kicked out for bringing a knife to school, while The Washington Post maintains that a fight with Rosario was the causative factor. Whichever was the case, the matter escaped the ken of the FBI.
Trending: Teacher suspended for criticizing Bernie Sanders' rape fantasy
There's much, much more. According to the Miami Herald:
In September 2016, the Florida Department of Children & Families was called in to investigate Cruz's generally troubling behavior.

"Mr. Cruz was on Snapchat cutting both of his arms," DCF's abuse hotline was told, according to an agency report obtained by the Herald. "Mr. Cruz has fresh cuts on both his arms. Mr. Cruz stated he plans to go out and buy a gun."
That he did buy a gun is now a known fact. It is also public record. Peter Forcelli, special agent in charge of the Miami office of the Bureau of Alcohol, Tobacco, Firearms and Explosives, told USA Today that Cruz purchased the weapon in February 2017 at Sunrise Tactical Supply.
Cruz cleared an instant background check via the FBI criminal database. And yet, when that very agency received a tip that a school shooting might be in the works, they found little worth pursuing. Even after a second tip came in on Jan. 5, this one from a person close to Cruz, the message was never passed along to the FBI's field office in Miami.
There is blood the agency's hands.