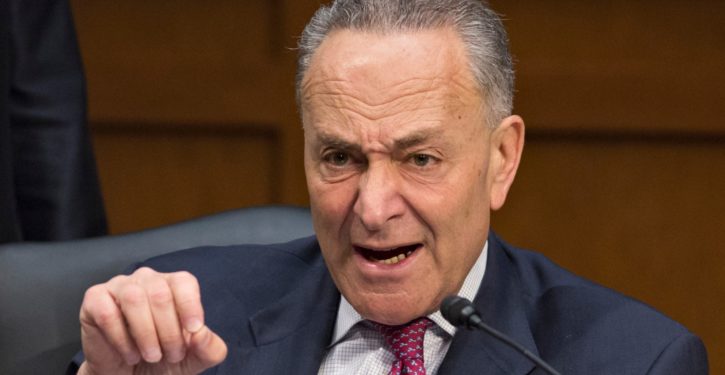 Is bipartisanship a good thing? Not usually. "In America, we have a two-party system," a Republican congressional staffer told a visiting group of Russian legislators in the 1990's." There is the stupid party. And there is the evil party. … Periodically, the two parties get together and do something that is both stupid and evil. This is called — 'bipartisanship.'"
This toxic combination of evil and stupidity resulted in Congress's vote Friday to increase federal spending by $400 billion over the next two years The increase was a bipartisan compromise between the Republican Senate Majority Leader and the Democratic Senate Minority Leader to prevent a looming government shutdown.
Earlier, the GOP-controlled House of Representatives had authorized a much smaller spending increase as a part of a continuing resolution to keep the government open. The House bill increased defense spending by $30 billion over prior levels, while leaving domestic spending essentially unchanged.
But the House bill couldn't pass the Senate, because it didn't spend enough money to satisfy senators. For the bill to pass in the Senate, it would take 60 votes, to overcome a Democratic filibuster. And there are only 51 Republican senators. Democrats in the Senate said they would "reject the defense hike without a matching increase in the domestic budget."
Trending: Court blocks coronavirus vaccine mandate for California prisons
So Senate Democrats and Republicans compromised — at the expense of future generations, who will now be saddled with hundreds of billions of dollars in additional national debt.
Republicans gave the Democrats the increases in domestic spending that they demanded. In exchange, Republicans got an even bigger boost in defense spending than the GOP-controlled House had proposed, and an even bigger amount than what the White House had requested in its budget proposals. After the Senate passed the bill authorizing this huge increase, the House then passed it, too, to prevent a government shutdown.
Most of the domestic spending increase will not go to worthwhile things like scientific research and veterans' healthcare. Instead, much of it will go to wasteful, unnecessary, or failed programs — or even bailouts for institutions that owe money to the federal government. The bill also includes $16 billion in tax loopholes for special interests.
The bill adds $89 billion in hurricane and other disaster aid, which is not a recurring expense, but also "$300 billion in spending for defense and domestic programs" that will be built into the baseline for future budgets as far as the eye can see. That includes $165 billion in extra military spending and $131 billion in extra domestic spending over the next two years.
The increase in spending is expected to sharply increase the federal budget deficit, which is now below $1 trillion, up to about $1.2 trillion. This is precisely the wrong direction to be heading in.
The federal budget is full of waste, especially in domestic discretionary spending. Many regulatory agencies funded through domestic spending harm the economy by creating red tape or filing baseless lawsuits against businesses. Their harassment of small businesses reduces job creation and thus federal tax revenue, and accordingly drives up the budget deficit further.
And while modest temporary increases in certain types of defense spending may be needed for military readiness (it is ridiculous that some planes are grounded due to lack of spare parts), the overall military budget contains a lot of waste that can be eliminated over the long run, eliminating the need for a larger baseline military budget beyond the next few years.
Back in 2013, the Cato Institute explained why the federal budget should be cut. It probably overstated the amount of cuts that could be made in the Defense Department, but its other suggestions seem absolutely correct. Its discussion of areas to cut included, among other things:
As a Washington Post columnist noted, "There is so much overlap among the military services, so much duplication and so much waste that no one bothers to defend it anymore." The Project on Defense Alternatives has identified $20 billion in readily-achievable savings to the military budget.