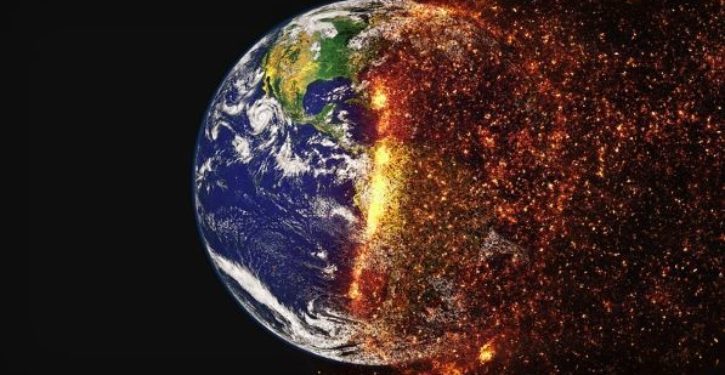 It's actually a good thing when you think about the loony ideas liberal parents are indoctrinating their very young offspring into accepting.
Some couples and individuals are trying to save the next generation from potential climate change disaster by forgoing reproduction altogether.
A dozen people aged 18 to 43, either raising children or considering having some, are deciding that the future is too uncertain, or certainly too grim, to bring new life into the world as floods, wildfires and extreme weather grow worse with a warming climate, The New York Times reports.
"Animals are disappearing. The oceans are full of plastic. The human population is so numerous, the planet may not be able to support it indefinitely," Amanda PerryMiller [sic], a mother of two and a Christian youth leader, told the Times. "This doesn't paint a very pretty picture for people bringing home a brand-new baby from the hospital."
Trending: Biden wants to spend billions on trains to nowhere
This way of thinking seems to be more prevalent in those who have traveled abroad and seen firsthand the devastating effects climate change has had on communities.
"I've seen how Syrian refugees, who are running from a devastating war, are being treated," Maram Kaff, who lives in Cairo and monitors news from the Middle East, told the paper in an email. "Imagine how my children will be treated if they have to flee their country due to extreme weather, drought, lack of resources, flooding."
No research has shown how widespread this trend is. The line of thinking is troubling for anyone worried about the overall  decline in the American birthrate, however. The U.S. birthrate hit an all-time low in 2016, with 62 births per 1,000 women aged 15 to 44.
This report, by Tim Pearce, was cross posted by arrangement with the Daily Caller News Foundation.