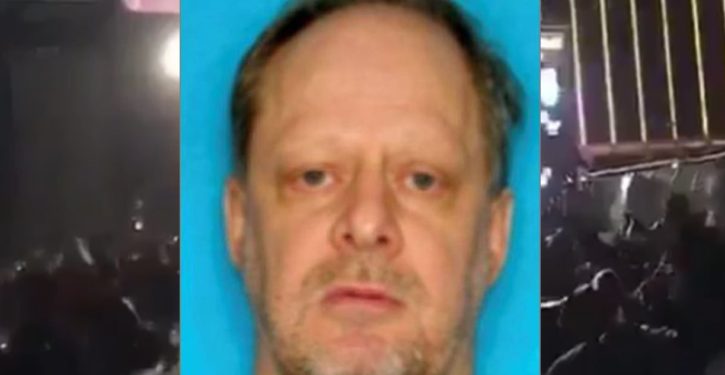 Las Vegas shooter Stephen Paddock may have been planning an attack at a beach in Los Angeles, according to a newly-released report on his internet and phone usage.
Police searched through the internet history of an HP laptop found in Paddock's suite at the Mandalay Bay hotel in Las Vegas and found a Google search for "how crowded does Santa Monica Beach get," according to the San Diego Union-Tribune. Paddock killed 58 people and wounded more than 700 others attending a Las Vegas music festival when he opened fire from his hotel room in October, raining down fire for 10 minutes.
Paddock made the search in May 2017, four months before his attack. It was found alongside searches for "open air concert venues," "biggest open air concert venues in USA," and "summer concerts 2017."
Internet history showed his searches became more focused on Las Vegas as he decided on a plan of attack, according to a full police report on the shooting released Friday. He searched "do police use explosives" on Sept. 15 2017, as well as "SWAT Las Vegas."
Trending: CNN hammers Trump for speaking at Mt. Rushmore: Just one problem
The report contains an in-depth summary of Paddock's life as well as the events of the shooting. Paddock's physician described him as "'odd" in behavior with "little emotion" shown, according to the report.
"He believed Paddock may have had bipolar disorder however, Paddock did not want to discuss that topic further with him," the report says. "Paddock also refused anti-depressant medication but accepted prescriptions for anxiety. He noted Paddock seemed fearful of medications, often refusing to take them. He did not believe Paddock was abusing any medications."
Police found four laptops and three cellphones and followed nearly 2,000 digital leads, including 21,560 hours of video and 251,099 images. The laptops were handed over to the FBI for investigation and the agency found Paddock's apparent internet history.
Investigators also found references to the "Life is Beautiful" music festival that took place in Las Vegas in late September, just before Paddock's shooting. Searches included "life is beautiful expected attendance," "life is beautiful single day tickets," and "life is beautiful Vegas lineup."
This report, by Anders Hagstrom, was cross-posted by arrangement with the Daily Caller News Foundation.