The world lies in solemn stillness as we count down the final hours to The Game.
Before addressing that august event, let's get some administrative business out of the way.  The number of our LU Nation-connected teams still in the hunt in Other Ranks has grown thin, but there are a couple to mention, and we're darn proud of them.
In FCS, we keep forgetting to mention Southland's Sam Houston State, which has ascended quietly to the quarter-finals and will meet Kennesaw State on Saturday at 8:30 PM.  The winner of that game will play James Madison, to decide who goes to the FCS championship on 6 January.  You go, dudes.
In Div II, darned if PSAC's Indiana (PA) isn't still in it, after a win over Assumption last week.  IUP is the #1 seed, in fact, heading into the semi-final with West Florida on Saturday at noon.  We'll be a bit preoccupied here with The Game, but pulling hard for the Crimson Hawks.
Trending: Before Crossfire Hurricane: Devin Nunes asks the essential question after release of DOJ IG report
In Div III, Mount Union used NJAC's Frostburg to mop the field with last week, so we're out of it, LU-connection-wise.  The semi-finals are 9 December, and Mount Union's next date with the trophy is 15 December at 7 PM.  More on that, and the startling move out of Salem, VA, next week.
Our normal FBS programming will, of course, get a big jolt next week as well, with the Booger-Fest beginning.
The Game
So, everybody basically expects Army to win this year.  Even Navy fans who say they don't really do.
We here at your LU Football Commentary Service are bucking the trend.  That said, Army has played well, and consistently, in 2017, and with an 8-3 record and a series of twitches that can actually pass for a "passing game," has an edge it hasn't brought for quite a while.
Not that there will be all that much throwing.  Navy, 6-5, can pass too, but it's clearly better if it doesn't have to.  Option football, just like nature intended, is the order of the day.  Not that that seems to minimize the errors for Our Mids.
But at least The Game is usually short on penalties, Good, Bad, or Ugly.  That's more than we can say for some of the games the various big name teams have been playing out there the last few weeks.
At any rate, the sportsbabblers are all, Can Army start a winning streak now?  If you call two games in a row a streak – and who are we to deny Army its rare gratifications – hey, maybe so.  Knock yourselves out, groundies.
Note on the uniforms.  Officially, everybody looks awesome.  That's our story and we're sticking to it.
Unofficially, Navy kicks afterburner with those totally sick Blue Angel duds.
???? #ArmyNavy Uniform Release! ????#NavyFootball will be wearing Under Armour Blue Angels Uniforms for the Army-Navy Game! @uafootball pic.twitter.com/jQVfgzCDk9

— Navy Athletics (@NavyAthletics) November 27, 2017
Army had to make a special video and bring the 10th Mountain into it, to generate some kind of thematic buzz for, um, white jerseys and white trou.  O-o-o-o-o-…kay.  Somehow, that seems like Army all over, which we're just saying.  (We're all about second chances, so you'll notice below that Army gets a do-over on making its case for the White-Out.)
Honoring the Soldiers of the 10th Mountain Division #ClimbToGlory pic.twitter.com/gOwGjEF4gE

— ArmyWestPoint Sports (@GoArmyWestPoint) December 4, 2017
We're in a reminiscing mood here for The Game, so we'll cut this short and proceed with the parade of images from a glorious past, interspersed with a few modern spirit spots.  We're reaching a long way back this time, because there's no telling what kind of craziness will wipe our tribal memories between now and next year.  Right now the year 1890 seems like a memory from the same planet.  By the time we've made another tour around the sun, it doesn't seem guaranteed that we'll even be calling the year 2018.
So enjoy, and settle in for some joint warfare on Saturday in Philly.  We hear there may be some snow.  Whoever sings second, it will be a band of brothers that leaves the field when it's over.
This next image must count as our centennial commemoration.  It's from 1916, but there was no 1917 Game because the U.S. had entered World War I in April of that year.  (Army won 15-7.)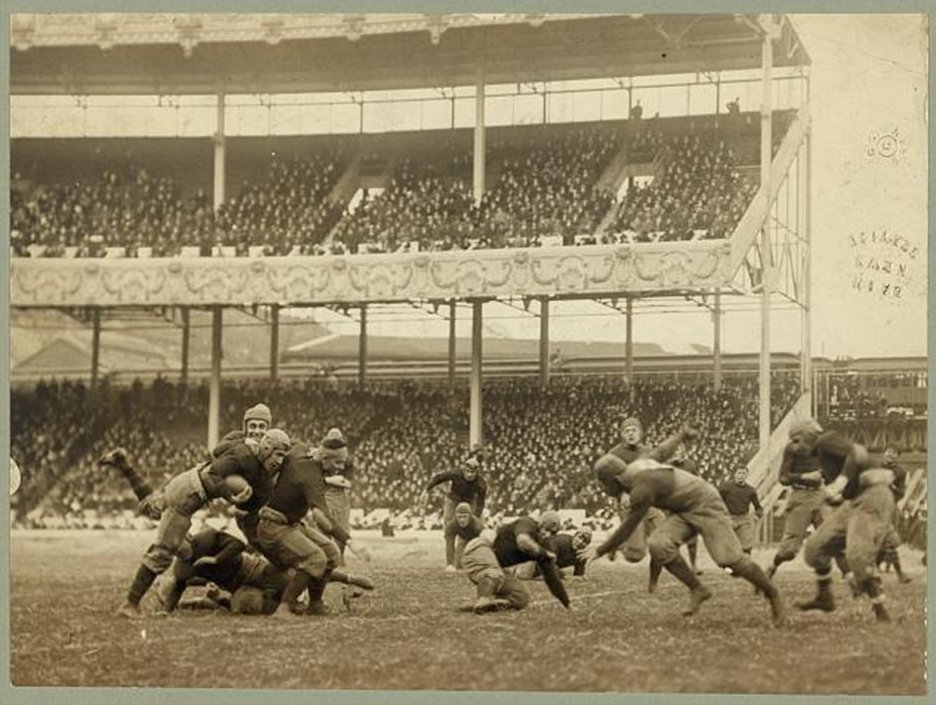 Army sends sisterly affection and concern for Navy's foot problems.
Words to live by: