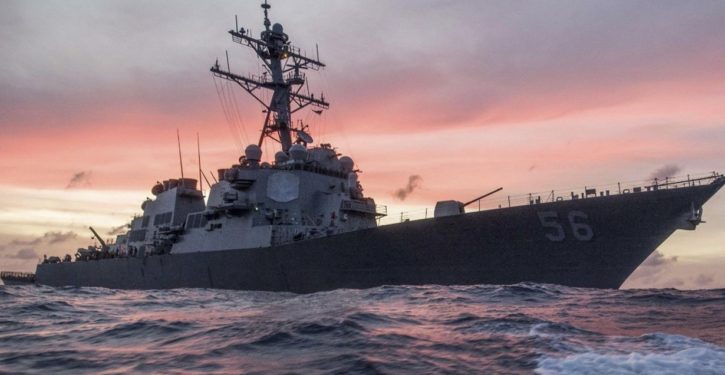 A Japanese vessel collided with a U.S. Navy destroyer Saturday, causing minor damage to the American warship.
A Japanese tug boat drifted into the Arleigh Burke-class guided-missile destroyer USS Benfold during a towing exercise in Sagami Bay. The Benfold suffered scrapes on its sides, according to U.S. 7th Fleet Public Affairs. A full damage assessment will be conducted in the aftermath of the incident.
The destroyer is operating under its own power, but the tug boat is being towed by another ship to Yokosuka, the Navy revealed.
Saturday's incident follows a series of serious setbacks for the U.S. 7th Fleet, which included two collisions in June and August that left 17 sailors dead and the Arleigh Burke-class guided-missile destroyers USS Fitzgerald and USS John S. McCain requiring hundreds of millions of dollars in damage repairs.
Trending: With removal of 'Stimulus' oversight IG, Trump is apparently right over the (Spygate) target again
In both cases, which involved collisions with commercial vessels, there were multiple failures on the part of the commanding officers and the crews of the American naval vessels. The Navy described the incidents as "avoidable." Both crashes were preceded by another collision with a South Korean ship and a situation in which a U.S. warship ran aground.
As these accidents have all occurred within the U.S. 7th Fleet, a number of commanding officers have been removed from their posts due to a "lack of confidence" in their leadership.
Based on the Navy's preliminary assessments, Saturday's incident was caused by problems aboard the Japanese ship, but the collision will be properly investigated.
This report, by Ryan Pickrell, was cross posted by arrangement with the Daily Caller News Foundation.