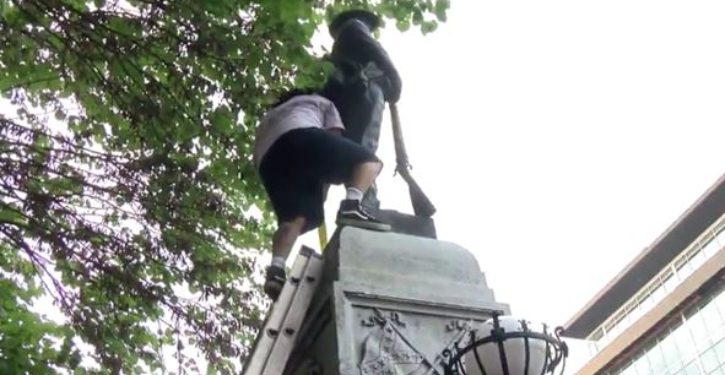 It's worth recalling the words of Jose Ramos, one of conspirators who took pride in destroying a monument to the Confederate Civil War dead in Durham, N.C. in August. In an interview with local reporters, Ramos said, "Today we got a small taste of justice."
The brand of justice Ramos spoke of was meted out again several days later when Takiyah Thompson, the woman who climbed a ladder to place a noose around the statue's neck, was offered a scholarship for "her ability to use her political-science education to the benefit of the community."
Now comes words that the charges brought against three of those who conspired to destroy the work of public art have been dropped.
According to ABC affiliate WTVD, two felony and three misdemeanor charges against Zan Caldwell, Taylor Cook, and Myles Spignor had been dismissed by the prosecutor, generating this reaction by supporters of this noble cause:
Trending: Fauci is a multimillionaire, yet will get $350,000 pension from taxpayers

While this is a small step forward in this particular iteration of the fight against white supremacy, we must remember that we cannot trust the system to change that which it upholds. This was merely representative of a lack of evidence, not an acquiescence of power and certainly not an admission of guilt. We must continue to fight until the remaining 12 walk free until no Confederate statues remain until all institutions of white supremacy have been abolished. We say 'Topple Racism — from Durham to the White House!'
The remaining twelve include the aforementioned Thompson, who following her arrest gave a statement to the Workers World Party:
I did the right thing. Everyone who was there — the people did the right thing. The people will continue to keep making the right choices until every Confederate statue is gone, until white supremacy is gone. That statue is where it belongs. It needs to be in the garbage. That statue glorifies the conditions that oppressed people live in and it had to go.

The statue in Durham, North Carolina, said 'to the boys who wore the gray,' If we understand history, we know that those boys who wore the gray, today they wear blue, and they wear sheets over their heads.
Presumably she is excluding the estimated 3,000 to 6,000 black "boys who wore the gray" from that criticism, if in fact she is aware of their existence.