We must concede at the outset that there was probably something of a "Trump" effect in the 2017 gubernatorial election held this week in Virginia.
That effect appears to be twofold.  First, Democratic voter turnout in the counties that went for Hillary Clinton in 2016 was very high for a non-presidential-year election.  Democrats were unusually motivated to vote.  (We might also observe that voting Democratic did not involve voting for Hillary this time – a not-inconsiderable point.)
Second, while Republican turnout was also high, including the counties that went for Trump in 2016 – all of which Gillespie held – it didn't surge the way Democratic turnout did.
On Wednesday, Dave Weigel tweeted a comparison with the 2009 governor's race (when Republican Bob McDonnell won big):
Gillespie got more votes last night (1,172,533) than McDonnell got in his sweeping 2009 landslide (1,163,523).

Trending: Dems' new secret plan to win the impeachment battle: weeping witnesses

The Dem vote grew from 818,909 to 1,405,007.

— Dave Weigel (@daveweigel) November 8, 2017
The 2013 results show a similar effect:  Terry McAuliffe, the Democratic winner, got 1,069,789 votes, compared to Northam's 1,405,007 this week.
Ken Cuccinelli, the Republican in 2013, got 1,013,354 votes to Ed Gillespie's 1,172,533 in 2017.
For another comparison, Hillary Clinton's Virginia total in the 2016 presidential race was 1,916,845.  Northam this week: 1,405,007.
Donald Trump's 2016 total was 1,731,156.  Gillespie's: 1,172,533.
For a final comparison, consider what Gillespie received in his run for the U.S. Senate in 2014, a race he lost to Mark Warner.  Gillespie's vote total in 2014 was 1,055,940.  (Warner's was 1,073,667.)  Gillespie improved his vote count between 2014 and 2017.
You can't weave a narrative from this that the Virginia vote in 2017 was a rebuke to Trump or Trumpism.  Sure, the Democrats were extra-motivated to get out and vote in 2017.  It would be moronic for the GOP to conclude from this that a winning strategy would be to never field a candidate who galvanized Democrats to get out the vote.
The California GOP has been operating on that theory for quite a while now, and it no longer holds a single statewide office.  The Republican strategy of not alarming Democrats has the Golden State firmly in the clutches of the Democratic Party, with the national delegation heavily Democratic, and the state legislature and executive entirely subordinate to Democrats.
At any rate, Virginia Republicans in fact turned out for Gillespie – a conventionally "moderate" Republican – and if it were still 2013, Gillespie might have been more competitive.
It's not 2013 anymore.  Given the historical trend of demographics and party voting in Virginia, and the pre-election polling this fall – in which Northam led Gillespie the entire time – Northam was highly likely to win anyway.
The electoral map of Virginia, by county, looks virtually identical to the results in 2016, as well as the senatorial election in 2014, the gubernatorial election in 2013, and the presidential elections in 2012 and 2008.
This has a lot more to do with demographic shifts in Virginia than with a given candidate.  Virginia has effectively become a blue state like the New York and California of the 1990s and 2000s, in which the urban areas now outvote the rural areas, and tend to consistently elect more Democrats than Republicans to offices that are contested statewide.
The last time Virginia voted reliably for Republicans in subsequent elections was in 1996 (Bob Dole) and 1997 (Jim Gilmore).  In 2000, George W. Bush won Virginia — but in 2001, Democrat Mark Warner won the gubernatorial race.
That pattern was repeated in 2004 and 2005, as we kick off the parade of maps.
In 2008, Virginia went for Barack Obama instead of John McCain.  The latter is unquestionably a centrist, establishment-approved candidate.  Virginia was still, at that point, more Republican-voting than it is now – yet McCain, a conventionally "moderate" Republican, didn't win there.
In 2009, Republican Bob McDonnell was able to win with a significant advantage over Democrat Creigh Deeds.
But since then, whenever a candidate has to compete statewide for an office, the top positions have been won consistently by Democrats.  Moreover, the county map has stayed virtually the same in terms of Democrat or Republican.  What has changed is the absolute number of votes in the counties – going up in blue ones and down in many red ones – and the size of the partisan advantage.
That effect has worked in Democrats' favor across the board.  In a number of more rural western counties, the GOP advantage has increased (darker red).  But the size of the voting population has decreased.  (The population-shift maps are further down.)
For the Democrats, the opposite effect is in play.  In counties where the Democrat voting advantage is increasing, the size of the voting population is also increasing.
This trend has been underway for years.  The transition point was in the 2000s, between the 2004-5 elections and the 2008-9 elections.
Here is the 2012 presidential election – with Mitt Romney as another conventionally "moderate" Republican.
Followed by the 2013 gubernatorial election, featuring comparatively conservative but non-flamboyant Ken Cuccinelli.
The elections since then.
Here we see the population shifts since 2000.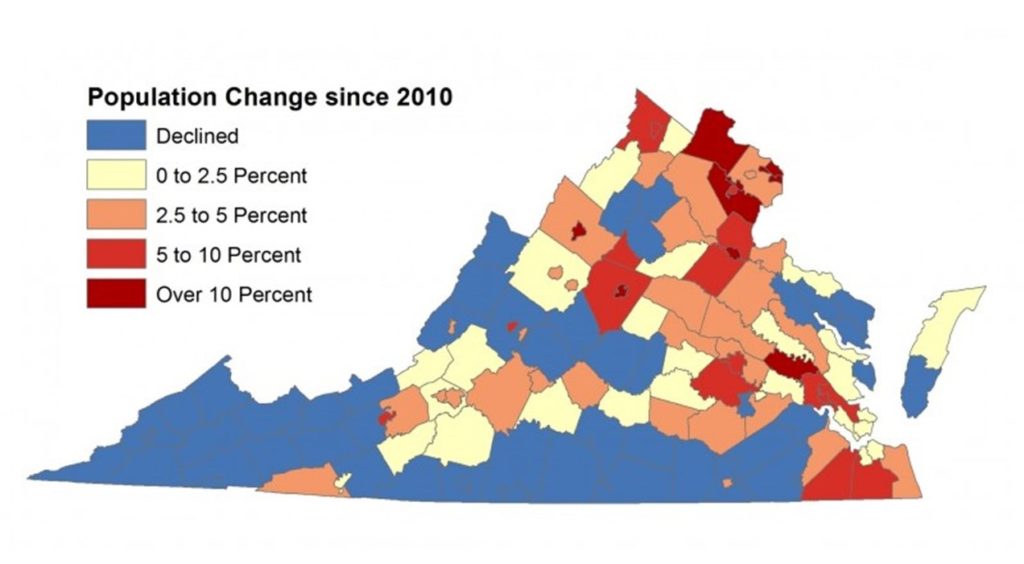 As the cities and suburbs around Washington, D.C., Richmond, and Tidewater (Norfolk, Virginia Beach, etc) gain population, they vote bluer and bluer.  The independent cities (like Charlottesville), which are blue enclaves, are seeing either no change, or a deepening blue trend.
This factor, and not the candidacy of Donald Trump in 2016, explains why Northam won and Gillespie lost this week.
Also important is the unusually large population factor of immigrants in Virginia.  The (leftist) National Immigration Forum (NIF) summarizes it thus:
Between 2000 and 2010, the foreign-born population in Virginia grew twice as fast as the foreign-born population in the U.S. as a whole, and between 2007 and 2013, Virginia's foreign-born population grew three times as fast as did the native-born population (19 percent versus 6 percent). Though immigrants in the state comprise nearly 12 percent of Virginia's total population, more than 14 percent of workers in the state are immigrants. The Washington, D.C. suburbs of northern Virginia have since become one of the nation's most diverse areas, emerging as a new immigrant gateway.
NIF is enthusiastic about the possibilities here:
In the 2014 elections, Asians and Latinos still comprised a small percentage of Virginia voters — 4.3 percent of voters were Asian and 2.4 percent of voters were Latino. Between now and 2020, however, the Latino and Asian population eligible to vote will grow considerably. Already, immigrants in Virginia are naturalizing at a higher rate than the norm in the U.S.: between 2000 and 2010, the growth in the number of Virginia's naturalized citizens was 9th highest in the nation.

Between 2012 and 2020, there will be an estimated 237,000 newly eligible Hispanic and Asian voters, including Hispanic and Asian citizens turning 18 and new citizens 18 years and older. Those votes can make a big difference in a state where elections are won with small margins. The margin of victory in the 2012 presidential election was approximately 149,000 votes statewide.
One possibility has already been realized: immigrants who aren't eligible to vote being registered, and actually voting.  The extent of that phenomenon may never be fully revealed, although it appears too small to have been decisive in voting for statewide offices.
That said, among the overwhelming majority of immigrants who vote legally, after they've become citizens, most tend to go for Democrats, as a number of studies have shown.
Immigrants are not the only factor, of course.  Much of the increase in the blue counties of urban Virginia is attributable to the growth of government, and the lobbying, consulting, legal, and contracting industries.  People in these vocations, many of whom move in from out of state, tend to be Democrats more than Republicans, due to Democrats' inherently greater passion for government itself.
The demographic shifts in Virginia are not identical to the earlier trends observed in California and New York.  But they have the same basic features: a tremendous increase in urbanization, the draining of rural vocations and populations, and comparatively high foreign immigration.
Virginia has turned blue, on a statewide basis.  That's why Ralph Northam won on Tuesday.  It's why it would be very foolish for the GOP to extrapolate lessons from Virginia to the red states and counties — or the other states and counties Trump won last year — in 2018.