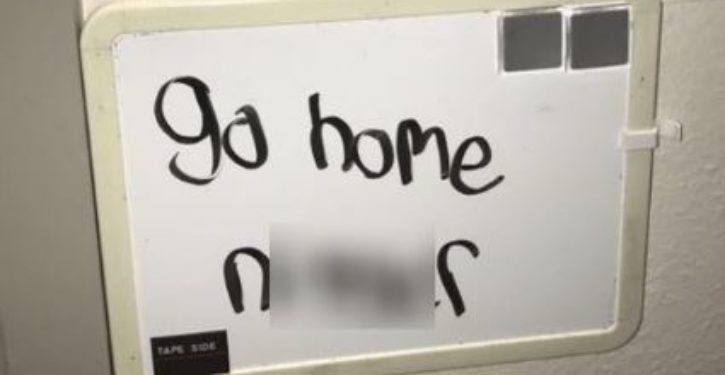 "That kind of behavior has no place at the Prep School, it has no place at USAFA, and it has no place in the United States Air Force." So said Lt. Gen. Jay Silveria, superintendent of the U.S. Air Force Academy, to students gathered for an assembly after a racist message was found outside the dorm room of five black cadet candidates on Sept. 27.
The general might have made the same speech word-for-word two months later when addressing the black cadet who was responsible for the ugly slur and has since been drummed out of the program.
According to NBC affiliate KOAA, the five roommates found the racist graffiti shown above on Sept. 27.
The following day, Gen. Silveria reproached the culprit and admonished all those assembled:
Trending: Dem Reps. Cummings, Waters, Schiff sign agreement to coordinate attacks against Trump

If you can't treat someone with dignity and respect then you need to get out. If you can't treat someone from another gender, whether that is a man or woman, with dignity and respect, then you need to get out. If you demean someone in any way, then you need to get out. And if you can't treat someone from another race or different color skin with dignity or respect, then you need to get out.
The incidence of race hoax seems to be on the rise. Last week, 21-year-old Dauntarius Williams of Manhattan, Kan., reported that his car had been covered with racist slurs. The FBI was called in to join local law enforcement in investigating. Yesterday, Williams confessed to scrawling the hate messages himself.
After the initial report, Andrew Hammond, a black writer and member of Black Lives Matter, tweeted out a couple photos of the graffiti-smeared car, soberly noting:
Another week, another incident involving racism at @KState

This is getting to the point where it's expected. pic.twitter.com/dtKzMT0mwF

— Andrew Hammond (@ahammsportsgeek) November 1, 2017
Sadly, the same can be said for the hoaxes.
For your convenience, you may leave commments below using either the Spot.IM commenting system or the Facebook commenting system. If Spot.IM is not appearing for you, please disable AdBlock to leave a comment.