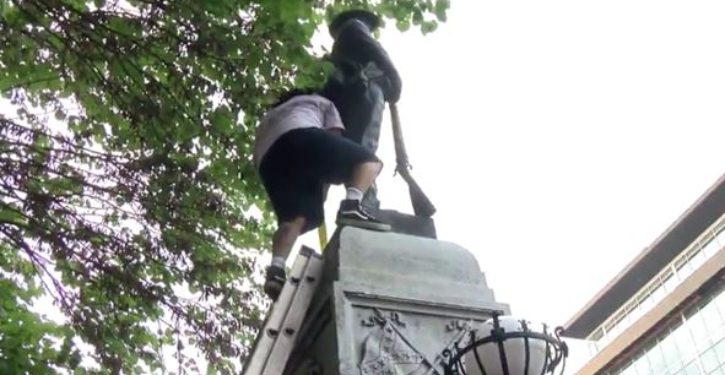 You'll read about this story elsewhere, but it will be sanitized. Other outlets will tell you in words similar those used by Durham CBS affiliate WNCN that "protesters" took matters into their own hand and yanked a confederate statue off the pedestal it had occupied since its dedication in 1924.
They may quote some of the proud conspirators like Jose Ramos, who jubilantly proclaimed, "Today we got a small taste of justice." They may reveal that after the statue fell, some members of the mob spat on it or kicked it, while others stood atop it and posed for pictures (shades of the fall of Saddam Hussein!).
They may even inform you, as WNCN does, that "Durham police … monitored the protests to make sure they were 'safe,' but did not interfere with the statue toppling because it happened on county property." Good thing the county has no law enforcement administration of its own.
One detail mainstream news outlets are apt to bury is the inscription on the statue:  "In Memory of the Boys Who Wore The Gray." According to the National Park Service, the number of "boys who wore the gray" and never came home is 483,026 — and boys is what many of them were. The statue that was toppled last night was a war memorial. It depicted a lone soldier — one of 642,427 who gave his life for his country.
The purpose of last night's non-peaceful assembly was not to "smash white supremacy," as its organizers claimed. And it was not "justice" that those responsible for defiling a work of public art tasted. Rather, it was anarchy. See for yourself:
Later last night, after the mob had dispersed, North Carolina Governor Roy Cooper tweeted:
The racism and deadly violence in Charlottesville is unacceptable but there is a better way to remove these monuments #durham – RC

— Governor Roy Cooper (@NC_Governor) August 15, 2017
Durham County officials also issued a statement that, according to WNCN, was intended as a reaction to the toppling of the statue. The statement follows, but I'll damned if I can see where this is anything more than idle lip-flapping:
Our elected officials and senior staff understand the unrest in our nation and community, particularly following the senseless acts that took place in Charlottesville, VA. We share the sentiments of many communities around the nation that admonish hate and acts of violence as we believe civility is necessary in our every action and response. Governmental agencies dedicated to public safety will continue to work collectively to ensure Durham remains a community of excellence where all of our residents can live peacefully, grow and thrive.
The author of the statement took considerable care not to trigger harsh emotions in the vandals that gathered for last night's "lynching."
Is this really what our country has come to?