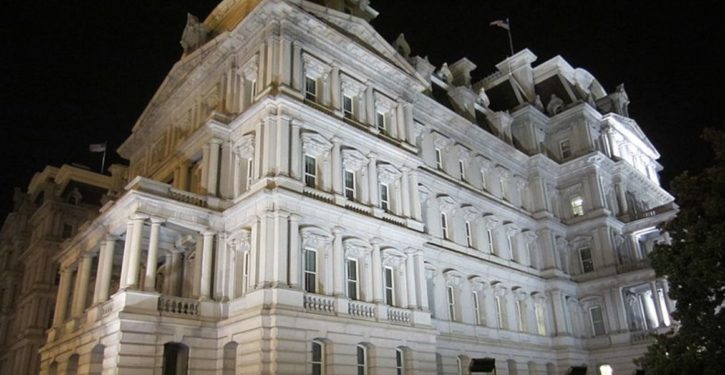 In evaluating National Security Adviser H.R. McMaster's seemingly sudden decision to "purge" key Trump hires on the National Security Council, it is essential to go back two days and remember what happened on Tuesday (1 August).
McMaster isn't doing this for his health, in a contextual vacuum.  Nor is there any way to justify seeing the events I will discuss here as unrelated.  This week marks the direct, gloves-off engagement of the "Obama-holdovers/deep state" – separate groups that intersect on the NSC – with the Trump administration, in a battle for control of national security policy.
What happened on 1 August?  The House Intelligence Committee named Obama NSC aide Ben "Echo Chamber" Rhodes as a person of interest in its probe of "unmaskings" done by Obama officials during the 2016 election cycle.
Circa's Sara Carter broke the story:
The House Intelligence Committee Chairman Devin Nunes, R-CA, sent the letter to the National Security Agency requesting the number of unmaskings made by Rhodes from Jan. 1, 2016 to Jan. 20, 2017, according to congressional sources who spoke with Circa. Rhodes, who worked closely with former National Security Adviser Susan Rice and was a former deputy national security adviser for strategic communications for President Obama, became a focus of the committee during its review of classified information to assess whether laws were broken regarding NSA intercepted communications of President Trump, members of his administration and other Americans before and after the election, according to congressional officials. The committee is requesting that the NSA deliver the information on Rhodes by August, 21.
Immediately after Ben Rhodes was named in the House Intel investigation, H.R. McMaster fired a key Trump loyalist whose name few may recognize: Ezra Cohen-Watnick.
McMaster also fired other Trump hires in the last two weeks, including Rich Higgins and Derek Harvey.  According to multiple reports (e.g., Adam Kredo's at the top link), he has more names on his list.  Another official, Victoria Coates, who was Ted Cruz's foreign policy adviser before moving to the NSC as a Trump hire, was reportedly on that list, and was moved this week to the White House's special Middle East team under Jason Greenblatt.
With all these moves, it's easy to get distracted by the number of them, and to think of this solely in terms of a slow-rolling, low-level policy conflict.
The twitch
But the firing of Ezra Cohen-Watnick, the name you may be the least likely to recognize, is the key.  Cohen-Watnick served as the Senior Director for Intelligence on the NSC.  He was brought in by Michael Flynn, and McMaster wanted to remove him back in March, but was personally overruled by President Trump at the time.
The timeline in March is important, because Cohen-Watnick was identified (by an anonymous source) to the media as the NSC official who enabled Rep. Devin Nunes (R-CA) to obtain evidence of the unmaskings done by NSC officials during the Obama administration.
Politico's 14 March report on McMaster and Cohen-Watnick indicates that McMaster informed Cohen-Watnick of the reassignment decision on Friday, 10 March.  Trump then stepped in to keep Cohen-Watnick in his job.
It was on 21 March that Devin Nunes went to the White House and gained access to the information he then briefed to the media about potentially improper unmaskings done during the Obama administration.
This tells us that McMaster wanted to remove Cohen-Watnick before Nunes got the ball rolling on the House probe of unmasking activity.  (McMaster assumed his job as national security adviser on 20 February.)  Why is another question, however, and we should not be too quick to assume it was a mere policy difference.
McMaster then went all the way from 10 March to 2 August honoring Trump's order to keep Cohen-Watnick in his job.  It was only after Ben Rhodes was named as a person of interest in the House probe launched by Nunes – and it was immediately after that announcement – that McMaster chose to fire a silver bullet and defy the president directly.
Openly defying the president's order on Cohen-Watnick is not something to take lightly.  Cohen-Watnick's job put him in a unique position to know a great deal about what was happening in both the intelligence community and on the NSC staff – and he may very well have been the person who helped Nunes view government records on who was unmasking U.S. person identities in the Obama administration.
Removing Cohen-Watnick would be a way of shutting down a channel to the NSC that the president himself both demanded to keep open, and would have relied on.  There's no way around calling this what it is: not a shot across the bow by McMaster, but a broadside volley.
Cohen-Watnick's prompt firing within hours of Ben Rhodes being named a person of interest looks very much like a combined reaction of the Obama holdovers on the NSC and the "deep state": the Washington careerists who throw up bureaucratic obstacles and engage in leak campaigns to thwart the policies they don't like.
Both groups have reason to oppose Cohen-Watnick because he's considered an "Iran hawk."  But the precipitating factor of the Ben Rhodes announcement would hit the Obama holdovers, especially, right where they live.  The House has been probing Susan Rice and Samantha Power for many weeks without provoking the direct defiance McMaster just showed.  Ben Rhodes would seem to be a big fish, as regards the unmasking activities.
One more scheduled event frames this live-fire week, and that's Jeff Sessions' off-camera press conference with Director of National Intelligence Dan Coats set up for Friday.  They are reportedly to address the Justice Department's progress on investigating intelligence leaks, and talk about methods to crack down on the leaks.  This particular event is generating little excitement right now, but it has the potential to yield some very important information.
Trump has effectively arranged for Sessions to hold this conference with the wind at his back – the most-defended man in Washington, after last week's Twitter assault by Trump, lauded and affirmed by Democrats and Republicans alike.  The conference may be a nothingburger, but then again, it may not.  If McMaster and acting FBI Director Patrick McCabe have been exchanging confidential information about "White House internal politics," as suggested last week by Sara Carter, McMaster may already know what's coming in tomorrow's media session.
Investigating: sources say,"McMaster has been communicating WH internal politics 2 Acting FBI director Andy McCabe." More shake-ups?

— Sara A. Carter (@SaraCarterDC) July 28, 2017
That may be a motive for both him and his political soulmates on the NSC.  We won't know how significant the DOJ findings are until Friday.
But realistically, there is nothing in the development of Iran-related policy issues to explain why the shooting war has erupted just at this moment.  Rather, the timing of the broadside volley this week looks to be related to the darker fight over unmaskings and leaks: the fight that isn't about policy, per se, but would specifically implicate people from the Obama administration.
Policy matters
All that said, it is well not to ignore the cumulative reporting that H.R. McMaster is a natural fit for Obama holdovers and the deep state alike, because on policy, he agrees with them.  It's become crystal clear that on policy, he is neither a Trump loyalist nor even a conscientious professional looking out for the president's priorities (which is what many conservative pundits expected him to be).
Caroline Glick posted an arresting summary on Facebook today.  I'll quote just a bit from it here, but read the whole thing:
McMaster…is deeply hostile to Israel and to Trump. According to senior officials aware of his behavior, he constantly refers to Israel as the occupying power and insists falsely and constantly that a country named Palestine existed where Israel is located until 1948 when it was destroyed by the Jews. …

As for Iran, well, suffice it to say that McMaster supports the deal and refuses to publish the side deals Obama signed with the Iranians and then hid from the public. …

McMaster disagrees and actively undermines Trump's agenda on just about every salient issue on his agenda. He fires all of Trump's loyalists and replaces them with Trump's opponents, like Kris Bauman, an Israel hater and Hamas supporter who McMaster hired to work on the Israel-Palestinian desk. He allows anti-Israel, pro-Muslim Brotherhood, pro-Iran Obama people like Robert Malley to walk around the NSC and tell people what to do and think. He has left Ben (reporters know nothing about foreign policy and I lied to sell them the Iran deal) Rhodes' and Valerie Jarrett's people in place.

And he not only is remaining at his desk. He is given the freedom to fire Trump's most loyal foreign policy advisers from the National Security Council.
This is about both policy and self-protection for the Obama people.  On the NSC, and especially on the issue of Iran, it all comes together: the Obama holdovers see self-protection as essential to saving their policy from any revision by President Trump.
We can't see all the moving parts of this; I doubt anyone, anywhere, can see all of them.  But it's clear that battle has been joined this week.  As Caroline Glick says, it's a mystery why McMaster hasn't been fired yet.  Trump certainly has reason to cut him loose.