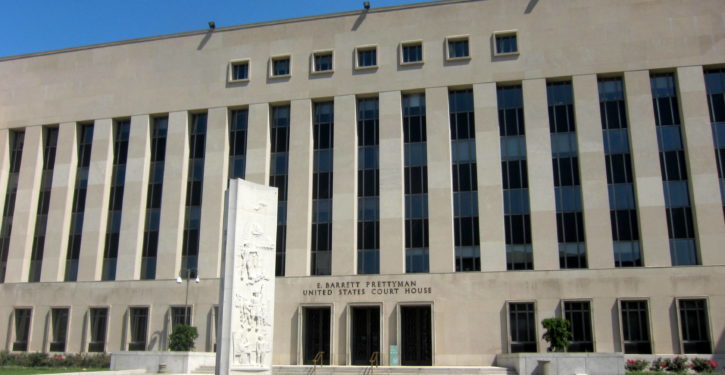 Judge Janice Rogers Brown will step down from the U.S. Court of Appeals for the D.C. Circuit in the coming months, giving President Donald Trump his first appointment to a court widely considered the second most powerful in the land. It is also one of the most liberal, thanks to the efforts of Barack Obama, though the judge stepping down is conservative and her departure will do little to shift the ideological balance of the court.
The Wall Street Journal first reported Brown's expected retirement, though it was not immediately clear when she will leave active judicial service. What's more, it is not yet understood if she will simply retire, which will allow her to participate in cases on a limited basis, or resign her commission altogether.
President George W. Bush appointed Brown the D.C. Circuit in 2003. She emerged as one of the most conservative jurists in the federal courts during her tenure, writing opinions defending the federal government's prerogatives in the national security context and criticizing rational basis review, a judicial standard that gives economic regulations the presumption of validity.
She was the first black woman to serve on the D.C. Circuit.
Her departure will give President Trump his first appointment to the court. The D.C. Circuit regularly hears cases involving federal agency power, national security, and the powers of the political branches, giving it a substantial profile in federal policymaking.
The court is also seen as something of a farm team for the Supreme Court. Chief Justice John Roberts and Justices Clarence Thomas and Ruth Bader Ginsburg each served on the D.C. Circuit prior to their elevation to the high court. Judge Merrick Garland, President Barack Obama's ill-fated SCOTUS nominee, currently serves as Chief Judge of the D.C. Circuit.
Democratic appointees currently enjoy a 7-4 majority on the Court.
This report, by Kevin Daley, was cross-posted by arrangement with the Daily Caller News Foundation.