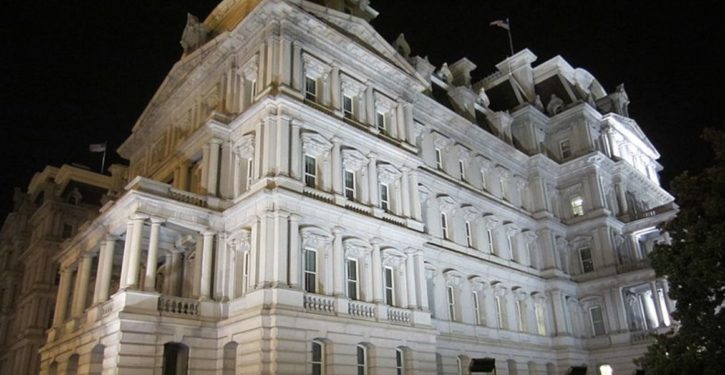 Probably the most startling thing we learn from a new report by the Senate Committee on Homeland Security and Governmental Affairs is how wildly disproportionate the leaking is under Trump, as opposed to Obama and George W. Bush.  (H/t: Adam Kredo, Washington Free Beacon)
In all, the committee report found 125 leaks to the media that met the report's criteria: i.e., that the leak be directly to the media outlet from "original sourcing" (within the government), and that it represent potential damage to national security.
These leaks occurred over a period of 126 days, starting with the first day of the Trump presidency.  Hence the (average) one-leak-per-day headline.
The report also looked only at the number of leaks that were made to major old-media outlets, and that could be compared on that basis – via a Lexis search – to the same period in the first terms of Barack Obama and George W. Bush.
The number for the Trump presidency is 62, using that filter.  For Obama, the number in 2009 was 8.  For Bush 43, the number in 2001 was 9.
This is obviously a ridiculous, unacceptable situation.
It's not clear how much of it, if any, can be attributed to the officials Trump brought with him, or appointed to political positions opened when the administration changed hands.  There are a couple of reasons for that.
One, the Senate report included "several [leaks] that quoted directly from President Trump's private calls with foreign leaders."  This seems to suggest that the leaks could only have come from Trump's inner circle in the Oval Office.  However, particulars of some of the leaks, like those attending Trump's phone call with Australian Prime Minister Malcolm Turnbull on 1 February, were publicly contradicted by the other party.  That at least throws doubt on the validity of the information – and hence the actual access of the "leaker(s)."
(Similar contradictions emerged immediately when "officials" leaked the quickly-debunked claim that Trump revealed "intelligence sources and methods" about the fight in Syria to visiting Russian dignitaries.)
The second reason is more broadly applicable.  It is simply this: Trump is universally acknowledged to be "way behind" on appointing new people to political posts.  The odds are exceptionally low that the leakers are people who were actually appointed by him.
Rather, they are most likely to be holdovers from the Obama administration.  This isn't just because, as the report notes, the leaks frequently depict Trump in a very negative light.
Many stories presented President Trump in a negative and often harsh light, with some seemingly designed to embarrass the administration. For example, a Mother Jones article detailed a memo telling intelligence analysts to keep President Trump's daily briefings short and to avoid nuance; a Reuters piece reported on how the National Security Council frequently puts his name in briefings so he will keep reading; and The Washington Post wrote a story on how the President "badgered, bragged and abruptly ended" a phone call with the Australian Prime Minister.
Nor is it just because there is an effort acknowledged on the left to submarine Trump from within his administration (see, for example, here, here, here, here, here, and here, as well as reporting from the right here and here).
No, it's because Trump has a lot of Obama holdovers still in key positions, and very few of his own appointees.  Don't take my word for it.  This information is straight from the Washington Post – a media outlet exceptionally unlikely to make excuses for Trump.
WaPo writer Jennifer Rubin gives her take on how Trump has brought the failure to man his administration on himself:
Quite simply, a lot of people don't want to work for this president, especially now that he is mired in scandal and so obviously contemptuous of advice from more seasoned members of his administration. …

In short, the unprecedented absence of people in key positions throughout the government is not the Senate's fault. It's Trump, who has chased away potential candidates.
She concludes the following:
[I]n a very real sense this is not Trump's administration at all. The "administration" consists of Obama holdovers and Trump's Twitter account.
This is something you can't have both ways.  If the administration consists of Obama holdovers and Trump's Twitter account, and we have empirical certainty that Trump's Twitter account isn't leaking to WaPo and the New York Times, then it's pretty clear who's doing the lion's share of the leaking.
To argue to the contrary, you'd have to find some way to credibly claim that Trump's few appointees and hires are more motivated to make damaging leaks to the media than Obama holdovers are.
That's a pretty hard case to make.  The Senate committee report points out – as we have here on multiple occasions – that it is a felony for an oath-bound government official to leak even one of these pieces of information.  Yet there are 125 instances of leaks, in the 126 days covered by the committee report.  And some of the leaks involved the disclosure of more than one specific piece of national security information.
Here is the conclusion from the committee report's executive summary:
As The New York Times wrote in a candid self-assessment: "Journalism in the Trump era has featured a staggering number of leaks from sources across the federal government." No less an authority than President Obama's CIA director called the deluge of state secrets "appalling." These leaks do not occur in a vacuum. They can, and do, have real world consequences for national security. To ensure the security of our country's most sensitive information, federal law enforcement officials ought to thoroughly investigate leaks of potentially sensitive information flowing at an alarming rate.
Indeed.