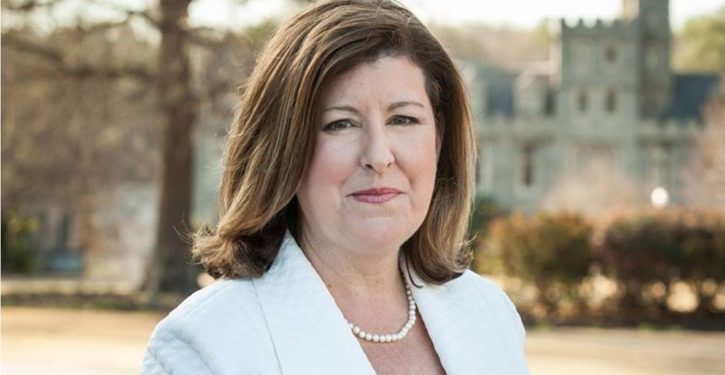 Oh, and Karen Handel, the Republican contender in the final round, won too, with a final vote breakdown of about 52-48 over Democrat Jon Ossoff.
The polls were tight right up to the end, although in the very last pre-election poll, Handel had pulled slightly ahead.  Her 4-point margin in the vote total is greater than the margin of 1.5 percentage points by which Trump edged past Hillary Clinton in the district last fall.  Notably, Jon Ossoff's final night's total of about 124,900 votes is only a few thousand higher than the 119,000-some received by former Rep. Tom Price's opponent in the 2016 election.  In other words, the Democrats didn't achieve very much, for all the money they put into it.
The national Democratic Party and its biggest donors threw millions into the election, making it the most expensive ever run for a seat in the House of Representatives.  Total spending came in at over $50 million, but Ossoff far outraised Handel.  As reported on Monday, since 29 March, Ossoff got over 7,200 out of state donations (about half from California), while Handel got only 800 and change.
The Atlanta Journal-Constitution reported that Ossoff's campaign spent over $22 million, dwarfing the less than $4 million spent by Handel.  Those totals don't count the money spent by PACs, in which the partisan spending was more even.
The Georgia-6 special election, which replaced Tom Price (who accepted the job as Trump's Secretary of Health and Human Services), makes the third "referendum on Trump" since January.  In each case — the other two were House elections in Kansas and Montana — the Republican won.
It's arguable, of course, how much of a referendum it is on Trump when voters choose between a Democrat and a Republican, the latter of whom are mostly conventional Republicans, as opposed to "Trumpists."  Perhaps it's less disputable that it's a referendum on the Democrats.  They enjoy the advantages of tremendous support from the mainstream media, and deep war chests kept overflowing by national-level donors.  But they can't make their vote totals budge.
I think that's the case for several reasons, one of which is that there are quite as many disaffected Democratic voters as there are Republicans.  Some of them went for Trump in 2016.  Others went for Bernie Sanders.  What they are not doing as they used to is showing up to vote in lockstep with the party's choices.
There's a similar, although not identical, effect on the GOP side.  Karen Handel had to face a ridiculously large number of Republican opponents in the first round in April, a sign of a less-than-united party.  She won tonight with about 57,000 fewer votes than Price got in November (i.e., some 134,600 for Handel versus Price's 191,000-odd).  It's to be expected that a new face will win by a narrower margin.  But Handel's narrow margin doesn't reflect the very wide margins by which Republicans have been winning in Georgia-6, at the federal level (president, Senate, House), for decades.
Still, the media have been framing this as a referendum on Trump.
And in the sense that the outcome defeated the media's theme, according to its own logic, he won the referendum, once again.