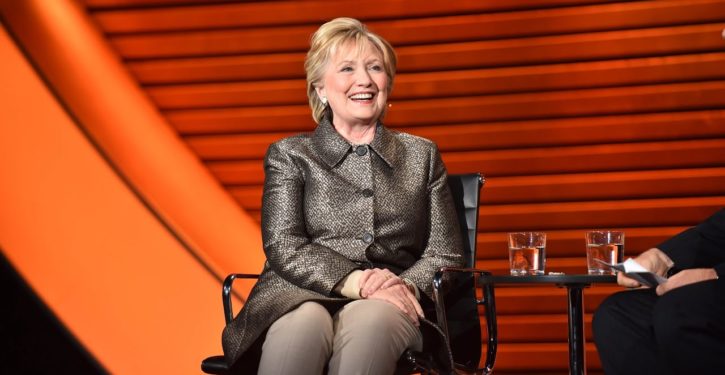 Former presidential hopeful Hillary Clinton has been living in continuous denial since she lost to the election to the guy she thought she should have beaten by 50 points. As she replays the campaign and election in her mind, she appears to be searching for the ultimate truth of why she came up short of enough electoral votes to win her the White House.
Her most recent rationalization is that none of the debate moderators asked her how she was going to create more jobs.
On Tuesday afternoon during her first one-on-one interview with a national news outlet since the election, she told CNN's Christiane Amanpour  at Women in the World Summit at the Lincoln Center in New York City:
I was waiting for the moment when one of the people asking the questions would have said, so exactly how are you going to create more jobs? I mean I thought, ya know, I thought at some moment that would happen.
Trending: Cartoon of the Day: Biden Burnout
The problem with Clinton's claim is that that was the first question asked by NBC's Lester Holt to kick-off the first presidential debate at Hofstra University Sept. 26.
In the video that follows, you can plainly hear Holt ask:
Beginning with you, Secretary Clinton, why are you a better choice than your opponent to create the kinds of jobs that will put more money into the pockets of American workers?
Holt even went so far as to introduce the segment with the advice that "we're calling this opening segment 'Achieving Prosperity.' And central to that is jobs.
What Clinton said Tuesday was inaccurate.
On to her next rationalization.
This report, by Ted Goodman, was cross-posted by arrangement with the Daily Caller News Foundation.