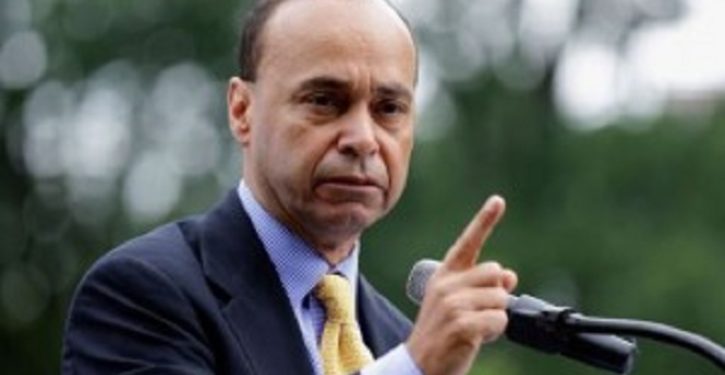 It's sadly part of larger story of Democrats fully embracing their proud stance as the party of lawlessness. Defending illegal immigration, promoting sanctuary cities, demanding that local authorities ignore the president's lawful orders, cheering when the intelligence community illegally leaks top secret information… No matter where we turn today, we can see the Democrats having descended into lawlessness.
In Chicago on Monday Rep. [score]Luis Gutierrez [/score](D-Ill.) was arrested after he and a group of protesters refused to leave the city's Immigration and Customs Enforcement offices.
Entering a meeting with ICE in #chicago at this hour to discuss deportations, #daca #detention #chiresist #twill pic.twitter.com/3dNt9ZZOUb

— Luis V. Gutierrez (@RepGutierrez) March 13, 2017
Trending: Dad In Desperate Need Of Heart Transplant Denied After Refusing Vaccine
d
Federal police giving us our first warning that we risk arrest if we stay at Chicago ICE HQ.#chiresist #twill pic.twitter.com/M77rU0EgGs

— Luis V. Gutierrez (@RepGutierrez) March 13, 2017
I was arrested, cuffed then cuffs were cut off. Waiting for further word on if/when we will be arrested. #chiresist pic.twitter.com/vKJRnz6Ebj

— Luis V. Gutierrez (@RepGutierrez) March 13, 2017
The DHS Police are still outside, but so far they have not come back to arrest us at the sit-in. #chiresist #twill pic.twitter.com/NitiGR9ZME

— Luis V. Gutierrez (@RepGutierrez) March 13, 2017
One commenter hit the nail on the head with her response:
so someone Advocating for Criminals aka #Illegals, gets arrested & becomes a Criminal himself. Wait U have always been a crook

— Karen (@kssturgis62) March 13, 2017
Gutierrez continues to advocate on behalf of the criminal element in our nation while refusing to serve the people he is actually supposed to be representing. Whether it's the epic violence, the failing schools and striking teachers, or the high taxes, Chicago continues to be both the heart of liberalism in America and the perfect example of how liberal policies can destroy a community. Yet, in spite of all this, the residents there vote steadfastly for the awful liberal politicians, then turn around and complain about how terrible things life in the Windy City has become.
Cross-posted at Constitution.com