You can probably guess what the word is not just by dint of how easily microaggressed the Left is nowadays. It's definitely not broad or dame. It's not gal, though libs would probably tear your tongue for saying it.
The word is female when used as a noun. The topic came to the fore when the geniuses behind the forthcoming March for Science tweeted this innocent-sounding question:
Are you a female who thought about doing engineering but decided against it? Why? What can the science community do better? #ScienceMarch pic.twitter.com/2Hzv2VqvRM

— March for Science (@ScienceMarchDC) February 23, 2017
Yep, they went there. They used female as a noun.
Among the enraged reactions to this offense was this tweet by Alessondra Springmann, a self-described "anticolonial intersectional feminist":
.@ScienceMarchDC delete your account you colossal waste of carbon.

— AlessondraSpringmann (@sondy) February 23, 2017
One of the respondents, Rachel Tatman, was less uncivil. Tatman, who is getting her PhD in linguistics, tweeted:
@ScienceMarchDC just a note: I don't love "female" as a noun to refer to women. Makes you sound like a Ferengi.

— Rachael Tatman (@rctatman) February 23, 2017
What's a Ferengi? you ask. (I know I asked.) These are Ferengi (that's a plural):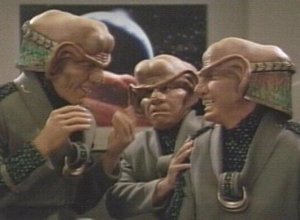 The Ferengi are fictional extraterrestrial race from the "Star Trek: universe. I still can't say I understand the connection or, more importantly, that I care.
Anyway, Heat Street attempts to shed a little light on why calling a woman a female is a taboo by citing an entry from a Victorian etiquette manual:
But as Rachel Tatman would (should) point out as a linguist, rules of style and usage evolve.
In addition, if we're get to get etymological about this, libs should know that the word woman has an iffy origin of its own. From Stack Exchange:
Woman used to be wifman, a combination of wif, meaning "woman" (whence wife), and man in the meaning "human being."…
So which would today's enlightened woman rather be called: woman-man or female (alt. Ferengi)? Just keep us apprised.