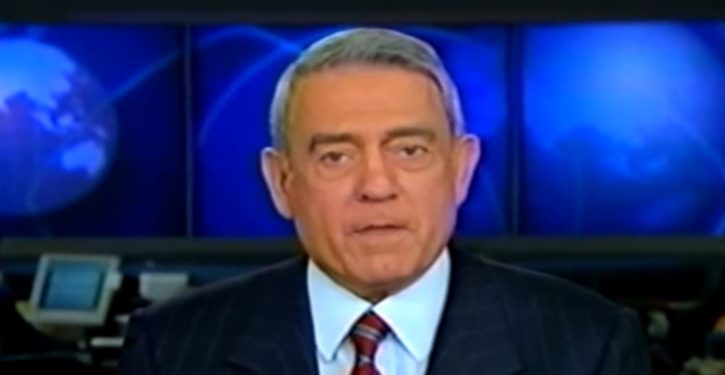 If you look for the initial link in the chain of events that sparked the title comment, you need to go back farther than yesterday. You need to go back to 2004. That's the year when Dan Rather, the author of the quote, lost his job with CBS News and his standing in the industry for engineering a fake news report of epic proportions.
Anyone with a shred of dignity would have sought the quiet assurance of a place outside the limelight. But Rather continues to make a public spectacle of himself. He is now teaching an online course in (get a load of the title!) Journalism & Finding the Truth in the News, subjects which he arguably knows something about. And when he's not busy molding the next generation of fake news spawners, he's injecting his worthless two cents into events like the one yesterday, which prompted his remark.
Upon learning that the White House had blocked CNN, The New York Times, the Los Angeles Times, Politico, BuzzFeed, the BBC, and the Guardian from a press gaggle Friday, Rather took to his Facebook page to vent his outrage:
Suffice it to say that Rather is the last person in the world who should be lecturing anyone on lying and redemption.
Having said that, the Trump administration is going to need to think long and hard about its relationship with major news outlets and whether it wants to continue this policy of exclusion. Yes, Sean Spicer, in whose office the briefing took place, issued a statement explaining that the White House "had the pool there so everyone would be represented and get an update from us today." And, yes, the outlets that were banned have all engaged in distortions and out-and-out lies intended to damage this administration. And, yes, other presidents have done the same thing, including candidate for sainthood Barack Obama, who held an off-the-record meeting with MSNBC and liberal pundits in 2013 without so much as a peep from Rather or his ilk.
Yet the optics of this are lousy for Trump, who appears to be thumbing his nose at the First Amendment, and just emboldens his opponents. Regardless of what he does, moreover, the mainstream media are going to continue their relentless campaign to diminish his presidency, if not out-and-out unseat him. He may as well just let them in.