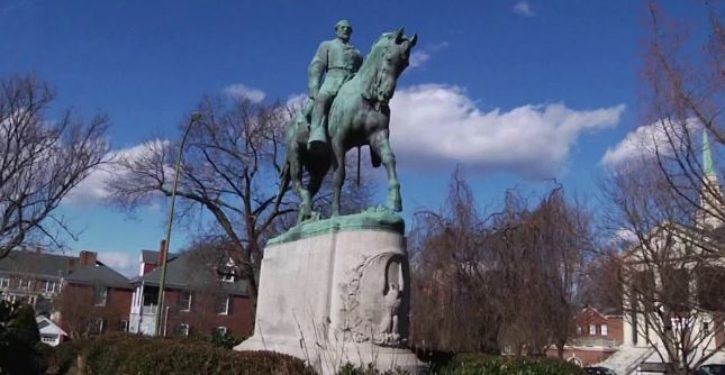 "Those who cannot remember the past are condemned to repeat it." That observation by George Santayana should become the motto of states south of the Mason-Dixon line, which became obsessed during the Obama years with eradicating symbols of American history that might traumatize members of the local populace.
One of the most outrageous examples of this unfortunate phenomenon was a vote by the Memphis City Council in 2015 to dig up the remains not only of Confederate General Nathan Bedford Forrest but of his wife.
An aspect of these efforts to erase the memory of names and faces that has rarely come up in past treatments is the cost, which is sometimes prohibitive. Witness the amount the city of Charlottesville, Va., will need to part with to carry out its latest historical rewrite, which, according to CBS affiliate WTVR, is to "remove a 93-year-old statue of Civil War general Robert E. Lee from a city park that beared [sic] his name."
The move, which came after months of debate, will set the city of 48,000 back $300,000. To put that dollar amount in perspective, the city in its annual budget for 2016 set aside $481,000 to permanent the new police officers added during FY 2015. The city, like so many across America, is plagued with infrastructure problems.
Trending: Florida shown as heavily Muslim in new religious map
Another problem with these efforts is that they never seem to stop. The area around Charlottesville is dripping with American history. Monticello, the home of Thomas Jefferson, is about a ten-minute drive. Jefferson was of course a slave-owner, as tours of his estate now emphasize. Is the home of the third president next up for demolition?