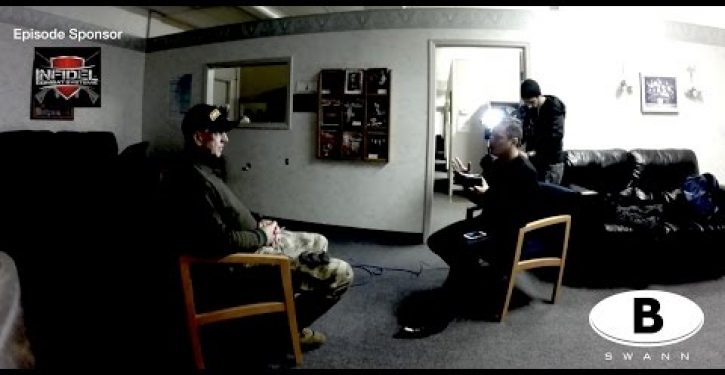 After a horrific night of arson, vandalism and looting in Ferguson, Mo. last week following a grand jury decision, members of the Oath Keepers have been arriving to guard over the persons and property the local police are unable to protect.
The Oath Keepers is comprised of veteran police and military personnel who take their oath to the Constitution above all else.
The city initially welcomed the group's assistance, but as word of their presence spread, state and federal politicians allegedly began pushing the city of Ferguson to threaten the Oath Keepers with arrest.
One image that became symbolic of the rioting's human toll was this one of Natalie Dubose, snapped as she surveyed the damage to her store, Natalie's Cakes & More. It was taken after the first night of violence.
Trending: Stowaway Hid In Wheel Well Of Plane During Flight From Guatemala To Miami
Dubose later posted a photo taken after the Oath Keeper's arrival to her shop's Facebook page. The Oath Keepers' founder, Stewart Rhodes, offered additional information and tweeted it to his account:
@FOX2now An American Marine Combat veteran, and Oath Keeper, stands guard with Natalie Dubose in her bake shop pic.twitter.com/X2siFqwOI7

— Stewart Rhodes (@StewartRhodesOK) December 1, 2014
Although Dubose is visibly pleased, the constabulary isn't. The Daily Mail reported:
Equipped with militia-style clothing and firearms, the Oath Keepers had been offering free security for businesses at risk of looting and arson in Ferguson.

They took up positions on rooftops after the St Louis suburb erupted in an orgy of violence and destruction following the grand jury decision not to indict Darren Wilson, the white police officer who shot dead 18-year-old Michael Brown.

Police questioned group members early last week and initially allowed them to stay.

But as tensions remained high in Ferguson over the weekend, St. Louis County police officers ordered the Oath Keepers to leave the rooftops, threatening them with arrest for operating without a license.
"Operating without a license"? Can that even be an issue in the high-tension, emergency atmosphere Ferguson has become? Apparently so.
"When we hear information that someone, or a group, is providing security without a license, our department has to investigate the issue," police spokesman, Shawn McGuire, told the New York Times in an email, the Mail reported.
The individuals comprising the team of Oath Keepers guarding Ferguson's businesses aren't a bunch of drunken yahoos out for adventure. They're all highly-trained ex-police and ex-military. Here's another example, tweeted by Rhodes:
Oath Keepers on the rooftops in Ferguson! John Karriman, veteran police officer and Academy instructor on guard. pic.twitter.com/E0MvMVM8rd

— Stewart Rhodes (@StewartRhodesOK) November 27, 2014
John Karriman is one of Missouri's own, according to Bearing Arms. He's a local police academy defensive tactics instructor, conducting classes at the Criminal Justice Center at Missouri Southern State University.
Pressure is primarily coming from federal authorities, Rhodes told BenSwann.com in an interview, and has even escalated to a dangerous game of chicken.
"We had an alarming incident that happened last night with our team spotting what looked like a fed three-man sniper team moving into a nearby house on higher ground, and then pointing their rifles at our team of American combat veterans, while our team was guarding the buildings against looters," Rhodes said.
He also claimed that state highway patrol snipers were deployed to a nearby building and pointed their rifles in the Oath Keepers' direction.
"Our team leader called Unified Command to find out what was going on and then local police responded," he told Swann, who reported:.
He said that the local police were unaware of what the federal government were doing and that there was no coordination. "The local police are on our side and expressed gratitude for us being there, but the Feds are trying to run us out."

The federal government is trying to badmouth this organization of ex-police and ex-military, even called them a "domestic terrorist" group.
The violence and mayhem that now characterizes Ferguson was the result of a St. Louis County grand jury decision not to indict Wilson.
The story, provided by Brown's accomplice in a strong-arm robbery that took place immediately prior to the incident, was that Brown's hands were in the air in surrender when he was shot. Testimony and forensic evidence didn't support that claim.
One reason tensions remain high over the case is that the "hands up, don't shoot" false narrative is repeated by Brown's supporters and the media. Political leaders aren't helping either.
Attorney General Eric Holder indicated he will continue to look for civil rights violations within the Ferguson Police Department.
The Congressional Black Caucus announced that the grand jury decision was "a slap in the face."
And President Barack Obama has been meeting with race-baiters like Al Sharpton and local St. Louis agitators.
Until someone in authority — preferably the president — announces that the jury has ruled and it's time to accept its findings and move on, the businesses of Ferguson will continue to need protection.
*UPDATE* Ben Swann held an exclusive video interview with Sam Andrews, the head of the Ferguson Oath Keeper operation.
Andrews explains his group's presence in Ferguson, and the harassment they've received from government authorities. That included in incident Thursday night when 50 armed police officers surrounded a building where the Oathkeepers were protecting businesses. They were told to either leave the buildings rooftop or they would be arrested.